Parents Choice Of Schools, Teachers & Principals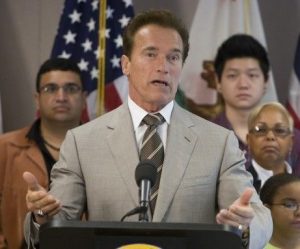 Arnold Schwarzenegger

View Photos
Governor Schwarzenegger was Tuesday's KVML "Newsmaker of the Day". Here are his words:
"Hello, this is Governor Arnold Schwarzenegger with another California Report.
The first week of January is always the busiest time of the year for a governor.
And we started this week with some very good news for education.
The California legislature passed major education-reform bills and let me tell you, many people thought that could never happen.
But we know too many children have been trapped in low-performing schools.

The exit doors may as well have been chained.
Now, parents have the right to free their children from underperforming schools without a principal's permission.
That means parents can send their children to a new school or even a new district. That is a great freedom.
Also in the past, parents had no power to bring about change in their children's schools. But we changed that.
Parents now have the means to dismiss ineffective principals and teachers. Or, they can turn their child's school into a charter school or even shut down the school entirely.
And to increase accountability, we broke down the data firewall. Now teacher performance can be linked to student performance.
That's amazing. And we did it all so quickly.
Just last July, the Obama Administration put together an education reform agenda which is called Race to the Top and includes $4.3 billion in federal funding.
We knew this could mean up to $700 million for California students. But we weren't even eligible to apply until we had the right laws in place.
That is why I called a special session of the legislature on August 20th.
We put together, in legislation, all of the things that the Obama Administration was calling for and more. This included many policies I have pushed for since I became Governor.
And now, now we have a bold action plan to transform our schools, increase accountability and give every child equal access to education and to success.
Thank you for watching and thank you for listening."
The "Newsmaker of the Day" is heard each weekday morning on AM 1450 KVML at 6:47, 7:47 and 8:47am.
Written by mark@mlode.com