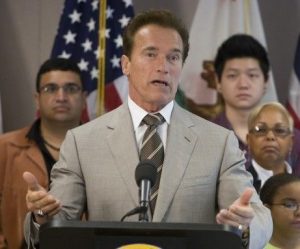 Arnold Schwarzenegger

View Photos
Los Angeles, CA — Sweeping education reforms have arrived for California.
Thursday Governor Schwarzenegger signed into law unprecedented reforms that will allow parents to remove their children from low performing schools, transfer them to another school or even another district.
The legislation will also allow parents to convert low performing schools into charter schools or close them all together. In addition parents will be allowed to dismiss under performing principals.
According to Schwarzenegger SB1 will, for the first time, allow a student's performance to be linked to a teacher's evaluation.
This legislation will also allow California to compete for $700 million in federal Race To The Top funding out of a total amount of $4.35 billion.
Schwarzenegger commented that even with such high priority items as the budget and water legislation, the Legislature was able to "get the job done" prior to the January 17 cutoff date.
There was a great deal of opposition to the legislation including one of the state's most powerful special interest groups, the California Teachers Association.
Written by bill.johnson@mlode.com