Mother Lode Wind Advisory & Sierra Snow Continues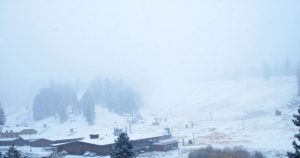 Snow At Dodge Ridge

View Photos
A Wind Advisory is in effect for the Mother Lode through 4 PM Sunday.
Winds of twenty to thirty-five mph are likely with gusts ranging from thirty-five to fifty mph.
Additionally, the Winter Storm Warning for the Sierra Nevada above 4000 feet, remains in effect through Monday 4 AM.
According to the National Weather Service, snow levels range from 4000 through 5000 feet, where an additional one to four feet of snow accumulation is expected.
Winds of twenty to thirty-five mph will continue with gusts ranging from fifty to seventy-five mph over the crest of the Sierra.
Christmas morning will start out dry but another storm system is expected to hit northern California late Christmas Day.
For the latest mountain highway conditions, click /traffic