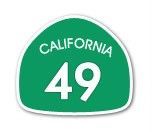 Hwy 49

View Photos
Mariposa County, CA — Caltrans has closed a section of Highway 49 in Mariposa County.
The stretch from Silva Road to Allred Road will remain shut down until two o'clock this afternoon for blasting and excavation work. Alternate routes will need to be taken throughout the duration.
To view a map of the area, click here.