Update: More Caltrans Work To Slow Traffic This Week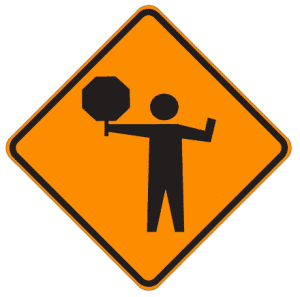 One-way traffic control flagger sign

View Photos
Update at 2:47pm: This week's sunny weather may have inspired an expanded Caltrans roadwork roster, as officials have added more cone zones, as detailed below…
Tuesday only on Highway 26, utility work between just west of and just east of Quail Oaks Drive in Valley Springs will require intermittent highway closures for about ten minutes at a time from 7 a.m. until 5 p.m. for overhead utility work.
On Highway 49 every weekday through Friday, sweeping operations along a nearly 20-mile stretch between the Highway 120 north/Chinese Camp part of the junction and the Tuolumne/Calaveras county line will likely generate ten-minute delays from 7:30 a.m. until 3:30 p.m.
On Highway 120/49, Tuesday through Friday, pavement work between the Stanislaus/Tuolumne county line and the Highway 49 west junction will trigger similar waits from 7 a.m. until 5 p.m. Expect briefer travel stops on Highway 120 from the county line and the end of the divided highway when shoulder work is going on from 8 a.m. until 4 p.m.
Ten-minute traffic stack ups are also possible on Highway 120 Tuesday through Friday as crews attend to guardrail repairs along a 12-mile section between Mountain Bluff Road and the Moccasin Creek bridge from 7 a.m. until 5 p.m.
Original Post at 2:32pm: San Andreas, CA — Motorists who travel Highway 4 in the Arnold area may encounter ten-minute travel delays this week due to tree crew activities.
Caltrans officials say that tree work between Horseshoe Drive in Hathaway Pines and Rancho Paradiso Drive below Arnold will require one-way traffic controls Tuesday through Friday along Highway 4.
The times slated for the related cone zones from 7 a.m. until 4 p.m., so commuters and those involved with shuttling their kids to and from school during those times should plan for ten-minute traffic waits along with being on the lookout for posted signs and flaggers directing traffic.
For the rest of this week's Caltrans cone zone roundup, click here.