Update: Flood Warning Issued For NW Calaveras County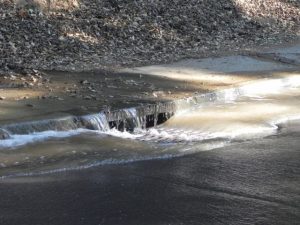 Water Running Into Storm Drain

View Photos
The National Weather Service has issued a Flood Warning for urban areas and small streams in northwestern Calaveras County until 11:15 PM Thursday.
Runoff from moderate to heavy rain continues to result in widespread flooding of streams and low-lying areas.
While many streams have already reached their peak levels and have begun to recede, others will likely peak this morning. Water levels will remain high into Thursday.
Water will be slow to recede in low lying areas.
The Wind Advisory in effect for the Mother Lode and the Northern San Joaquin Valley, will expire at noon today.
Winds of fifteen to thirty mph will continue this morning, with gusts up to fifty mph.
The Winter Storm Warning issued for the Sierra Nevada above 4,500 feet, has been extended until noon on Thursday.
Half-a-foot to a foot of additional snow accumulation is likely above the 5,000 foot elevation. Eight inches to three feet of additional snow accumulation is likely above 7,000 feet.
Winds will gust as high as fifty mph.