Trump: Reducing Violent Crime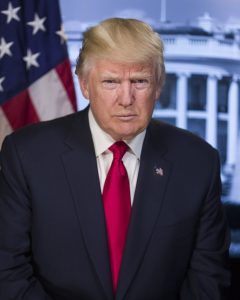 President Donald Trump

View Photos
President Trump spoke about crime reduction and his administration's support of law enforcement officers.
Trump was Monday's KVML "Newsmaker of the Day". Here are his words:
"When I took office two years ago, one of my highest priorities was to reduce violent crime. In the two years before my inauguration, violent crime increased by 8 percent nationwide, and murders were up by more than 20 percent.
The cornerstone of our strategy is revitalizing one of the most effective crime reduction initiatives in history: Project Safe Neighborhoods. This program brings together law enforcement, community groups, and local leaders to get the most violent offenders, in the most dangerous areas, off our streets and put them behind bars as quickly and easily as possible.
Last year, we secured $50 million in funding Project Safe Neighborhoods, and I'm proud to announce that we are asking Congress for even more funding this year. And we'll get it.
We've deployed nearly 200 new violent crime prosecutors across our country. In 2018, my administration prosecuted more violent criminals than ever before in the history of our country. And we've increased the average sentence for drug trafficking to its highest level in many years.
Through the combined effort of everyone here today, violent crime is now going down for the first time in a long while. Murders in America's largest cities dropped by 6 percent compared to 2016.
The police departments here today have provided us with new homicide data showing steep declines over the last two years, including an estimated reduction of 16 percent in New Orleans, 27 percent in Newark, and 30 percent in Milwaukee. That's great. Three places — that's a great job you're doing in those three places, especially.
In my administration, we understand that reducing crime begins with respecting law enforcement. We will not tolerate smears, or slanders, or assaults on those who wear the badge and police our streets.
In order to keep every American safe, we are making officer safety a top priority.
In support of that goal, more than $600 million worth of surplus military equipment has been made available to law enforcement. This is equipment that was rotting. The best stuff, but rotting in warehouses that a past administration didn't want you to have. Someday they'll explain that one to me. I actually have heard the reasoning, but you're getting it and it's coming in droves. And as we get additional equipment, we send it out to our great police.
When an officer is hurt, it is a wound inflicted upon our entire nation. In my administration, we strongly believe that criminals who murder cops should get the death penalty.
Every day our law enforcement officers risk their lives to defend the lives of others.
We enacted the Fix NICS Act and the STOP School Violence Act, which gives grants to schools and law enforcement to improve safety.
My administration also formed a School Safety Commission that recently released its official report, which includes nearly 100 detailed recommendations that really work and really make sense, based on input from families, educators, mental health practitioners, and law enforcement. Now we must work together to turn these recommendations into reality. They're really good recommendations. A lot of common sense in those recommendations. And we need more common sense, overall, in our country.
Nothing is more important than protecting our children.
So to every police chief and sheriff and to every officer and deputy across America — to all of law enforcement: We will never forget your service, and we will never, ever let you down. We will never let you down.
We greatly respect you, we love you, and we thank God for you each and every day.
Thank you very much. God bless you. And God bless America."
The "Newsmaker of the Day" is heard every weekday morning at 6:45, 7:45 and 8:45 on AM 1450 and FM 102.7 KVML.