Update: Flood Watch Issued For The Mother Lode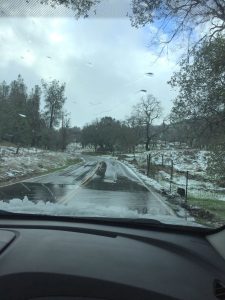 Flooding water flowing over Pool Station Rd near Hwy 4 during snow Feb 5 2019

View Photos
The Flood Watch remains in effect for the Sierra Nevada, the Mother Lode and the Northern San Joaquin Valley through this evening.
Additional rainfall amounts of less than half-an-inch is expected in the Central Valley.
Two to eight inches of additional rain is expected in the lower elevations of the Sierra Nevada.
The rain on top of the existing snow, is creating flooding concerns for elevations below 5,000 feet.
Rivers and streams will continue to rise as the rain continues. Mudslides, dirt slides and rock slides are all possible.
Additionally, the Winter Storm Warning for the Sierra Nevada continues through 4 AM Saturday.
According to the National Weather Service, the snow levels will drop to around 3,500 feet by tonight.
Additional snow accumulations will range from one to eight feet above the 7,000 foot elevation.
Wind gusts of one hundred mph will continue above the 9,000 foot elevation.
Also, a Wind Advisory is in effect for both the Mother Lode and the Northern San Joaquin Valley until 6 PM tonight.
Winds of twenty to thirty mph will continue with gusts ranging from forty to fifty-five mph.
A Wind Advisory means that wind gusts of 40 mph are expected. Winds this strong can make driving difficult, especially for small cars and high profile vehicles. Use extra caution.
A Flood Watch means there is a potential for flooding based on current forecasts. You should monitor later forecasts and be alert for possible Flood Warnings. Those living in areas prone to flooding should be prepared to take action should flooding develop.
A Winter Storm Warning for snow means there will be snow covered roads and limited visibilities. Travel is not recommended while the warning is in effect. If you must travel, keep an extra flashlight, food and water in your vehicle in case of an emergency.