Update: Winter Storms Will Continue Through Tuesday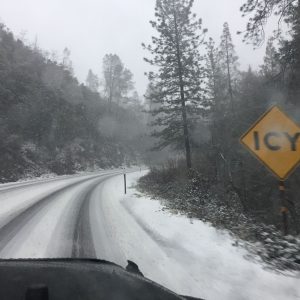 Snow Near Arnold

View Photos
The National Weather Service has issued a Winter Storm Warning for the Sierra Nevada through 4 PM Tuesday.
A Winter Storm Warning has also been issued for the Mother Lode from 4 AM Monday through 4 PM Tuesday.
The series of winter storms will continue during the warning period. Heavy snow is forecast in the Sierra Nevada today.
The high snow levels will drop down to 5,000 feet tonight. Snow levels will range between 3,500 to 4,500 feet on Sunday. On Monday and Tuesday, the snow levels will lower below 3,000 feet.
Total snow accumulation in the Mother Lode will range from two inches to two feet. Above the 5,000 foot elevation, five to thirteen feet of total snow accumulation is expected.
Plan on difficult travel conditions, including during the morning commute on Tuesday.
Additionally, a Wind Advisory has been issued for the Sierra Nevada below 5,000 feet until 4 AM Sunday.
Winds of fifteen to twenty-five mph will continue with gusts ranging from forty-five to seventy mph over the higher terrain.
The winds are expected to peak this morning before diminishing later this afternoon. Winds will increase again overnight.
Strong winds may blow down limbs, trees, and power lines. Scattered power outages are expected.
Finally, a Flash Flood Watch remains in effect for Mariposa County and the Sierra Nevada through this evening.
Heavy rain totaling two to four inches may lead to excessive runoff, rising water levels on area rivers and streams and a threat of flash flooding. Mud slides, rock slides and debris flows are possible in some locations, especially in the vicinity of the Ferguson burn scar.
Some roads may become closed, impassable or washed out.
A Flash Flood Watch means that conditions may develop that lead to flash flooding. Flash flooding is a VERY DANGEROUS SITUATION. You should monitor later forecasts and be prepared to take action should Flash Flood Warnings be issued. If you live in a flood prone area, this would be a good time to review an emergency escape plan in the event high water or a debris flow threatens your home.
A Wind Advisory means that winds of 35 mph are expected. Winds this strong can make driving difficult, especially for high profile vehicles. Use extra caution.
A Winter Storm Warning for snow means there will be snow covered roads and limited visibilities. Travel is not recommended while the Warning is in effect. If you must travel, keep an extra flashlight, food and water in your vehicle in case of an emergency.