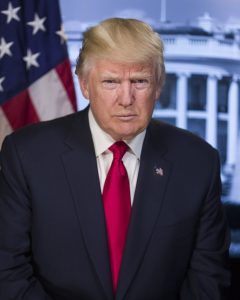 President Donald Trump

View Photos
President Trump was Monday's KVML Newsmaker of the Day. Here are his words:
"So we had a productive meeting with Speaker Pelosi and Senator Schumer. I thought it was, really, a very, very good meeting. We're all on the same path in terms of wanting to get government open.
I want to thank a lot of the Border Patrol people and ICE people who came up yesterday. They had a tremendous impact on, I think, a lot of Democrats, frankly, but a lot of people, because they were able to lay out exactly what the problem is.
And one of the problems described to me — as an example, you have ports of entry. We're going to agree with Chuck and Nancy and Steny, and Dick Durbin was there. And we're going to agree that — and we want to make the ports bigger, more powerful, able to handle more traffic; have very, very powerful drug equipment there. So they make very good stuff now. We don't have it because of budgets and other reasons. But we're going to make our ports of entry very powerful, very strong. We're going to have the best drug-finding equipment anywhere in the world. They make it much better today than they made it even two years ago.
And I explained to them — the problem is, though, we can have a wonderful port of entry, but you have 2,000 miles of border between the United States and Mexico. And if you take a look and you see, like we do, through certain technology — including cameras and airplanes, not just drones — you'll see vast numbers of vehicles driving through the desert and entering where you don't have a very powerful fence or a wall.
That happened this week, where a wonderful, young police officer — I spoke to his wife yesterday — where he was shot, viciously shot, for simply stopping a person that came over the border illegally. Got shot. Killed. And took the most beautiful picture just hours before — a Christmas picture. We don't want that happening.
But I was explained too, and I explained to people — because it's really common sense: So you have ports of entry, and we have great security at the ports of entry, and then you may have fencing or walls, up and down, left and right, east and west. But they stop because we don't have proper border security.
These people have vehicles and they drive to the right. They're not going through where we have great Border Patrol officers and ICE officers, and military now. I tell you, the military has done a fantastic job. They don't stop. They go right to the easiest part and the weakest part, sometimes out in desert. But you have miles and miles and miles of unprotected area. And you can see where they drive over. You even have people walking that track. And that's a very dangerous trek. And they bring children — or even worse, they use children.
You know, children are the biggest beneficiaries of what we want to do. Children are hurt more than anybody else. These coyotes, what they do with children, all because we have open borders, because they think they can get away with it. They don't come in through the port, where we have a lot of protection. They come in through empty areas, vast spaces — empty areas — just like this terrible person came in when he shot Officer Singh. They come in through these vast, open areas. You don't even have a sign saying "Mexico/U.S." There's no sign designating you have just entered the United States. It's just open space.
And I explained that to the meeting today with Nancy Pelosi, Chuck Schumer, and a lot of other people at the meeting. And I said, one of the things that happens there is human traffickers — maybe that's the worst of all — where you'll have traffickers having three and four women with tape on their mouths and tied up, sitting in the back of a van or a car, and they'll drive that van or the car not through a port of entry, where we have very talented people that look for every little morsel of drugs, or even people, or whatever they're looking for. Not going to go there. They get off the road and they drive out into the desert, and they come on, they make a left turn. Usually it's a left, not a right.
Most of them come out — because in San Diego and in areas of California, we just finished brand-new walls. Beautiful walls. Steel walls. And they wanted them badly. They were asking us. That's why we did it there. I said, "Let's not do it in California." California always complains through their great governors. They're always complaining. I said, "Let's not do it. Let the governor ask us." But we did it anyway because they really needed it. They were having tremendous problems.
So we built a brand-new wall in San Diego, and it's working really well. You should go and look at it. It's amazing. It's incredible how well it works.
But these coyotes and these human traffickers, they make a right turn before they get to the port of entry. They go as far as the wall is, or as far as the barricade is, and then they make a left: "Welcome to the United States." And what they do with usually the women — sometimes children — that they're trafficking with, and in, you don't want to know about.
So the only way you're going to stop that is by having a solid steel structure or concrete structure, whether it's a wall or some form of very powerful steel. Now, the steel is actually more expensive than the concrete, but I think we're probably talking about steel because I really feel the other side feels better about it. And I can understand what they're saying. It is more expensive.
We mentioned the price that we want — $5.6 billion — very strongly. Because numbers are thrown around — 1.6, 2.1, 2.5. This is national security we're talking about. We're not talking about games. We're talking about national security. This should have been done by all of the Presidents that preceded me. And they all know it. Some of them have told me that we should have done it.
So we're not playing games. We have to do it. And just remember, human traffickers. Remember drugs. The drugs are pouring into this country. They don't go through the ports of entry. When they do, they sometimes get caught. When we finish — and the Democrats do want this; they want ports of entry strengthened, and I want to do that too. In fact, we have it down. It's about $400 million. And we can have the best equipment in the world.
Now what they'll do — if we have the protection and we have strong ports of entry, with this incredible drug-finding equipment, I don't know what they're going to do, because they're not coming in through — past the steel gates or the steel walls, or the concrete walls, depending on what's happening.
So now, when they make that turn, they make it. And now, all of a sudden, they can't go any further and they have to go back. And that's going to stop the caravans for two reasons. Number one, they're not going to be able to get through. But when they realize they can't get through, what's going to happen? They're not going to form and they're not going to try and come up. And they can apply for asylum and they can — most importantly, they can apply for citizenship because the companies that I told you, that created these great job numbers — they're incredible job numbers, beyond anybody's expectations. I don't think there was one Wall Street genius — of which I know many of them, but they're not geniuses — there's not one that predicted anywhere close to these job numbers. I thought they were going to be good. But there wasn't one that I saw.
So now we have everything so beautifully handled. We need to have, however — we need border security. And all of this security, if we do what I think what the Democrats want, all of the border things that we'll be building will be done right here in the good, old USA by steel companies that were practically out of business when I came into office as President. And now they're thriving. You call up the heads of U.S. Steel, and I could name 10 companies. If you look at what's going on with the steel industry, it's almost a miracle. It was a dead industry. We need steel for defense. We need steel for a lot of things. Steel and aluminum.
But those industries were in deep trouble. The steel industry was almost dead, and now it's a very vibrant, vibrant industry.
So we're at 5.6. If you look at it — $5.6 billion. But we are able to also, in addition to that — because what we want to do has to be done properly, and we're negotiating very tough prices. Very, very tough. Because you heard much higher numbers. Those higher numbers were very much a misnomer. You heard twenty and twenty-five billion in DACA.
What happened is, when a judge incredibly — because it was an incredibly, I will say, wrong decision. In fact, President Obama, when he signed the DACA with the executive order, made a statement to the effect, this isn't going to work. And some judge from the Ninth Circuit — here we go again — upheld it. And then it was upheld by the Ninth Circuit Appellate, and now it's going before the United States Supreme Court. And hopefully, that will be properly adjudicated. Because if it is, talks will begin on larger immigration matters having to do with DACA, having to do with other things."
The "Newsmaker of the Day" is heard every weekday morning at 6:45, 7:45 and 8:45 on AM 1450 and FM 102.7 KVML.