Update: More Sierra Nevada Snow This Saturday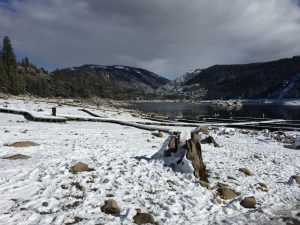 Pinecrest Lake Snow 12/14/15

View Photos
Another winter storm will bring additional snow to the Sierra Nevada tonight through Saturday evening. This next storm will be colder, with lower snow levels.
The National Weather Service has issued a Winter Storm Warning for the Sierra Nevada above 4,000 feet from 10 PM tonight until 6 PM Saturday. This will be downgraded and end as a Sierra Nevada Winter Weather Advisory by 10 PM Saturday.
Up to three feet of total snow accumulation is likely above 5,000 feet.
Snow rates could reach up to two inches per hour at times between 4 AM and noon.
Combined with breezy conditions, travel will become very difficult, if not impossible. Be prepared for significant reductions in visibility at times. Plan on slippery snow covered roads and travel delays Saturday into Saturday evening.
A Winter Storm Warning means there will be snow covered roads and limited visibilities. Travel is not recommended while the warning is in effect. If you must travel, keep an extra flashlight, food and water in your vehicle in case of an emergency.
A Winter Weather Advisory means periods of snow will cause primarily travel difficulties. Expect snow covered roads and limited visibilities, and use caution while driving.