President Trump: We Must All Rise Above The Hate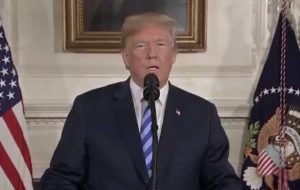 President Trump

View Photos
President Trump was Monday's KVML Newsmaker of the Day. Here are his edited words:
"As you know, there was a horrific shooting targeting and killing Jewish Americans at the Tree of Life Synagogue in Pittsburgh, Pennsylvania. The shooter is in custody and federal authorities have been dispatched to support state and local police, and conduct a full and thorough federal investigation.
This wicked act of mass murder is pure evil, hard to believe, and frankly, something that is unimaginable. Our nation and the world are shocked and stunned by the grief. This was an anti-Semitic act. You wouldn't think this would be possible in this day and age, but we just don't seem to learn from the past.
Our minds cannot comprehend the cruel hate and the twisted malice that could cause a person to unleash such terrible violence during a baby naming ceremony. This was a baby naming ceremony at a sacred house of worship on the holy day of Sabbath.
Anti-Semitism and the widespread persecution of Jews represents one off the ugliest and darkest features of human history. The vial, hate-filled poison of anti-Semitism must be condemned and confronted everywhere and anywhere it appears. There must be no tolerance for anti-Semitism in America or for any form of religious or racial hatred or prejudice. You know that very well.
I have just spoken with the mayor of Pittsburgh, Bill Peduto — terrific guy — and with the governor of Pennsylvania, who I've been dealing with quite a bit lately on the hurricanes and other things, Tom Wolf, two terrific people, to assure the full and complete resources of my administration in the investigation of this attack.
We are praying for the families of the victims, and our hearts go out to the wounded law enforcement officers in Pittsburgh. Very badly wounded and very brave. The results and the facts will be put out very shortly. But these were very brave officers. These are incredible people of law enforcement. And law enforcement does so much for us. They really do. They do so much for us. And they're really unsung heroes. They don't get the credit they deserve, but I've always given them the credit. These are incredible patriots, incredible people.
We mourn for the unthinkable loss of life that took place and we pledge in their name to fight for a future of justice, safety, tolerance, morality, dignity, and love.
We must all rise above the hate, move past our divisions, and embrace our common destiny as Americans. And it doesn't mean that we can't fight hard and be strong, and say what's on our mind. But we have to always remember those elements; we have to remember the elements of love and dignity and respect, and so any others.
I remember when we had the attack in Manhattan. We opened that stock exchange the next day; people were shocked. A great group of people — the head of the New York Stock Exchange is just a fantastic guy — Dick. And he opened it up. He got it opened. Everybody was standing proudly with him. And the purpose wasn't financial. It had nothing to do with financial. It was that we don't let people that are evil change our lives.
And we'll keep our schedule the way it's supposed to be, and we should all do that. And I maybe recommend that to others also. It's a personal choice, but I think maybe we should recommend that to a lot of people.
Thank you."
The "Newsmaker of the Day" is heard every weekday morning at 6:45, 7:45 and 8:45 on AM 1450 and FM 102.7 KVML.