Road Project Extended, More Work On HWY 49, 108, 120 and 132
Caltrans construction crews plan to wrap up several of their road projects on Mother Lode highways this week ahead of the rainy season. Here is a rundown of what to expect this week.
The October completion date has been pushed back for the Highway 120/108 and Highway 49 repaving. The project goes from the Mariposa/Tuolumne county line to HWY 108 with one-way traffic control for road striping all this week. The project also extends from the Stanislaus/Tuolumne county line to the Yosemite Junction. This week the roadwork is scheduled to begin Sunday night at 8PM and continue night and day through Friday.  The work began in April.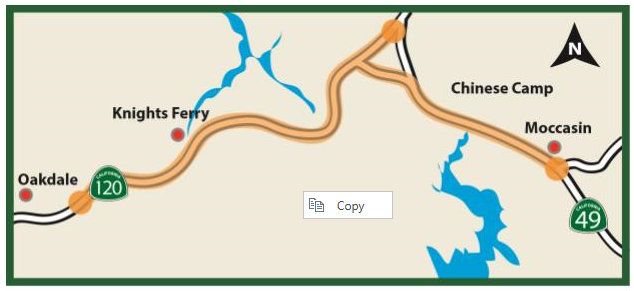 Work at Highway 108 and 5th Avenue in Jamestown has entered its second phase as reported here. The project has an expected completion date of December.
Crack seal operations on Highway 132 in the Coulterville area will delay traffic for 10 minutes on Monday from 7:o0AM to 4:30PM.
Other Highway Roadwork:
| Highway | Days | Location/Area | Reason | Estimated Delay |
| --- | --- | --- | --- | --- |
| HWY 4 | Tue. only | Strawberry Hill Road to Forest Meadows Drive | 7AM to 5PM One-way traffic control for Shoulder work | 10 min |
| HWY 4 | Mon – Fri | Upper Moran Road to Big Trees Park Entrance | 6AM to 6PM One-way traffic control for Asphalt cement paving | 10 min |
| HWY 26 | Mon – Thu | San Joaquin/Calaveras County line to HWY 12 | 9AM to 6PM One-way traffic control for  road striping | 10 min |
| HWY 26 | Mon – Sat | In Calaveras from Hwy 49 to Centennial Mine Road | 6AM to 6PM One-way traffic control for Tree Work | 10 min |
| HWY 26 | Thu only | In Jesus Maria Road to Mongomery Drive | 7AM to 5PM One-way traffic control for Utility Work | 10 min |
| HWY 49 | All week | Frogtown Road | 7AM to 5PM Long-term one-way traffic for utility work | 5 min |
| HWY 49 | Thu -Fri | Gun Club Road to San Domingo Creek | 8:30AM to 3PM Left and Right shoulder for drainage work | 5 min |
| HWY 108 | Mon-Fri | 3,000ft Elevation Marker to Confidence Road |  Sun at 8PM to Fri 6PM Some one-way controlled traffic for Drainage Work | 10 min |
| HWY 108 | Mon-Fri | Twain Harte Drive to Oddfellow Road |  9AM to 3PM some one-way traffic control for Tree Work | 5 min |
| HWY 108 | Mon-Fri | Herring Creek Lane to Clarkes Fork Road |  8AM to 4PM some moving closure for shoulder work | 5 min |