Added Caltrans Road Work Slows Traffic On Highways 108, 120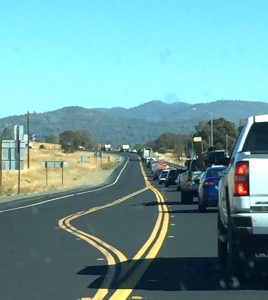 Highway 108 cone zone delays Oct 16 2018

View Photos
Sonora, CA – Crews, taking advantage of this week's sunny, seasonable weather are taking care of pre-winter roadwork, contributing to some significant traffic delays on two Mother Lode highways.
Caltrans officials say added cone zones focusing along Highways 108 and 120 may bring ten-minute delays through Friday in a few different areas.
Clarke Broadcasting has heard of 15-minute plus waits on Highway 108/49 as motorists reported sitting in traffic between the Woods Creek Bridge in Jamestown (near the former Tweedy Tire building) and east of OByrnes Ferry Road. Too, during the 11 a.m. hour, travelers noted that shoulder work was being done near Chicken Ranch Road. Non-related intersection improvements in Jamestown at 5th Avenue (click here for details on that project) contributed to further slowing through Jamestown.
The four additional Caltrans work areas are as follows:
Two of the areas are on Highway 108, where, through Friday from 6 a.m. until 4 p.m. drainage work will be ongoing within the nearly 11-mile area on East Avenue between its end and restriction point; also along the nine-mile stretch between the Plainview Road end and restriction point.
Another Highway 108 work zone active through Friday from 6 a.m. until 6 p.m. daily is the 14-mile section between the Sugar Pine Road end and restriction point, where drainage chores are also going on.
Look for Highway 120 delays near and within a 15-mile stretch between the Stanislaus/Tuolumne County line and Highway 49 junction, where today through Friday workers are attending to shoulder work under a moving closure from 7:30 a.m. to 3:30 p.m.
To review the rest of this week's Caltrans work roster, click here.