Trump: Things We Can Do About Wildfires Before They Start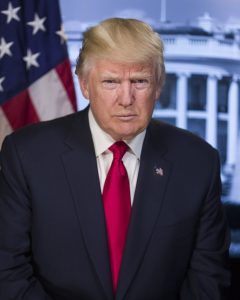 President Donald Trump

View Photos
President Trump was KVML's Newsmaker of the Day. At last week's Cabinet Meeting he discussed California's wildfires. Here are portions of his comments:
THE PRESIDENT: Well, I want to begin today by expressing my condolences to the family of a person I knew well — she worked for me on numerous occasions; she was terrific — Aretha Franklin, on her passing. She's brought joy to millions of lives, and her extraordinary legacy will thrive and inspire many generations to come.
She was given a great gift from God: her voice. And she used it well. People loved Aretha. She was a special woman. So I just want to pass on my warmest, best wishes and sympathies to her family.
We meet at a time of great opportunity for our nation. Our economy is doing better than it ever has before. It was going in the wrong direction when we came onboard, and now it's going better than ever before.
We've created nearly 4 million new jobs since the election, which is an unthinkable number. Nobody would have said that was possible. It's going to go up very substantially from there.
The African American, Hispanic American, and Asian American unemployment rates have all reached their lowest levels in recorded history. And we're creating manufacturing jobs at the fastest pace in memory. Nobody has any numbers where it's anywhere close to what we're doing.
And if you remember, during the campaign, everybody said that it was impossible to create manufacturing jobs.
The past administration — and I won't say who, but I think you know — made the statement that we're not going to have any manufacturing jobs. And we're doing them by the hundreds of thousands.
Companies are moving back into the United States. That means jobs; it means production; it means taxes. And, really, things are great.
I'd like to ask Ryan Zinke, Secretary, who actually I watched this morning. He was giving a rundown on the horrible fires that are taking place mostly in California. And I thought what he said was so true and, actually, rather incredible — people don't hear it — they don't hear it like it is. There are things you can do about those fires before they start, and you wouldn't have nearly the damage and the problems.
We're spending a fortune in California because of poor maintenance and because, frankly, they're sending a lot of water out to the Pacific to protect the smelt. And, by the way, it's not working. The smelt is not doing well. But we're sending millions and millions of gallons, right out into the Pacific Ocean, of beautiful, clean water coming up from the north — or coming down from the north.
And I thought Ryan was great this morning. So… I would ask you to give maybe a little recap of what you said this morning on television.
SECRETARY ZINKE: Well, thank you, Mr. President. And first, our firefighters — which there are 30,000 of them — are doing spectacular things. We've had six deaths related. And we forget that firefighters, while they're in the frontline, their homes and families are in jeopardy, and our hearts and prayers need to be with our frontline firefighters that are out there every day.
It is a matter of gross mismanagement; there is no question. The fuel loads are up. The density of our forests is historical. We have dead and dying timber. And if you don't believe me, believe your own eyes: Go out and take a look at our forests. Take a drive out there and look at the dead and dying timber. It's been a gross mismanagement for decades. But we're burning our forests, we're destroying our habitats, and we're destroying our communities and neighborhoods by these catastrophic fires of two-, three-hundred-thousand acres.
Thus far, there's 5.7 million acres of our public lands that have been destroyed at a cost of about $3 billion this fiscal year. Americans deserve to go out and recreate rather than evacuate. So we went out — Secretary Perdue and I went out to California. We are committed to reestablishing sound science, best practices for the greatest good for all of us.
But sound active management, Mr. President, is the path that you have laid. And it's clear: This is unacceptable that year after year we're watching our forests burn, our habitat destroyed, and our communities devastated. And it is absolutely preventable. And public lands are for everybody to enjoy and not just held hostage by these special interest groups.
Mr. President.
THE PRESIDENT: And, Ryan, you're saying it's not a global warming thing, it's a management situation. And one of the elements that he talked about was the fact we have fallen trees. And instead of removing those fallen trees — which get to be extremely combustible — instead of removing them — gently removing them, beautifully removing them — we leave them to burn and, actually, in many cases, catch fire much easier than a healthy tree, a healthy-growing tree.
Could you just discuss that for a second?
SECRETARY ZINKE: Well, Mr. President, we import lumber in this country, and yet there are billions of board feet that are on the forest floor rotting. Rotting. And whether you're a global warmist advocate or denier, it doesn't make a difference when you have rotting timber, when housing prices are going up, when a lot of Americans are right at that border of affording a house, and yet we are wasting billions of board feet for not being able to bring them to a local lumber mill. It is unconscionable that we would do that to our citizens.
And so, Mr. President, we are actively engaged. We have signed secretarial orders. Secretary Perdue and I went out to California. We are joined at the hip to make sure we actively manage our forest, remove the dead and dying timber, replant diversity of species. And on the salvage operations — 5.7 million acres — a lot of that can be salvaged if we get to it in the first year. And we're going to do it, Mr. President.
THE PRESIDENT: And just to add, just to conclude, especially when Canada is charging us a lot of money to bring their timber down into our country. It's so ridiculous. Here we have it. We're not even talking about cutting down trees, which in certain areas we can do. We're talking about lying on the floor, creating a tremendous hazard and a tremendous fire hazard and death trap.
So I thought they were great points. Thank you very much, Ryan. Appreciate it."