Construction On HWY 108, HWY 4 And HWY 49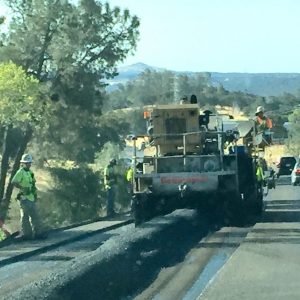 Hwy 4 paving near Copperopolis

View Photos
Summer roadwork continues on local Mother Lode highways this week.
There will be tree work off Hwy 108 in the Jenness Road and from Hidden Acres Road to the West Twain Harte area, causing 5-10 minute delays from 6AM to 6PM all week.
On Highway 108 at Soulsbyvill Road up to Kennedy Meadows a moving closure of one of the lanes for striping will cause 10 minute delays. The work is scheduled Monday through Thursday from 8:30AM to 4PM.
Paving on Highway 108 and the 34 miles from near Oakdale to the Yosemite Junction and from the Hwy 49 Junction to Chinese Camp and to Moccasin will restrict traffic in areas as crews pave. Work will begin Sunday at 9PM and continue day and night ending at 6PM on Friday.
On Hwy 120 From Mountain Bluff Road to Moccasin Creek Bridge one-way traffic control for paving will cause short delays from 7:30AM to 3:30PM.
From Lyons Dam Road to a half-mile east of Long Barn Road on HWY 108 paving will limit traffic to one-way with flaggers causing 10 minute delays. The work will be from 6AM to 3PM but more work from West Long Barn Road (right) and a quarter-mile into Long Barn Road will begin at 6AM and continue until 6PM.
On HWY 108 from Clarks Fork Road to Brightman Flat drainage work will be done all week from 8AM to 3:30PM limiting traffic to one lane.
Near Coulterville Highway 49 northbound and southbound remains closed from approximately 15 miles from Bear Valley to the junction with Hwy 132. Caltrans crews and construction partners are working to open on August 1, 2018. Detours for the area can add an additional hour of travel time.
Roadwork In Calaveras
Monday through Friday On Highway 4 beginning at the Arnold Byway/Old Highway to one mile east of Beatrice Drive there will be one-way traffic control for tree work. The work is scheduled to cause 10 minute delays from 6AM to 5PM.
Also in the Arnold area shoulder work, after paving was done, will continue on Highway 4 from Dorrington Station to Cabbage Patch Log Road all week from 6AM to 6PM on Monday through Friday.
The entire week on HWY 4 from Vallecito Road to Six Mile Road one-way traffic control for shoulder work will cause 10 minutes delays as well.
On Highway 4 from Stockton Road to to Hwy 4 utility work will close a lane and the shoulder causing 5 minute delays the whole week from 7AM to 5PM.
On Highway 26 in Calaveras from Gold Creek Drive to Hogan Dam Road and from Pine Street to Winton Road will be one-way traffic control for utility work. The utility work near Hogan Dam will be from 9PM until 6AM all week, near Winton Road work is scheduled from 7AM to 5PM.