Democrats: Let Us Protect The Affordable Care Act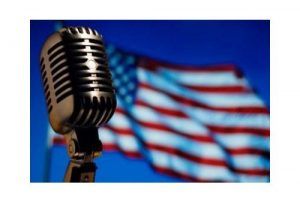 Microphone and US Flag

View Photos
During the Democratic Weekly Address, Representative Katherine Clark (D-MA) marked the one-year anniversary of House Republicans voting to repeal the Affordable Care Act.
Clark was Tuesday's KVML "Newsmaker of the Day". Here are her words:
"May 4th is the one-year anniversary of the House Republicans' vote to repeal the Affordable Care Act. It is a day I won't forget.
Right after voting to take health care away from millions of Americans, Republicans boarded party buses in front of the Capitol and drove to the White House for a champagne toast.
While they were celebrating, families across the country began to panic about how they would care for themselves and their loved ones. After the vote, my office phone started ringing with calls from constituents like Jen.
At 19, Jen was diagnosed with Lupus. Her life became filled with frequent medical visits and prescription refills.
Jen knew health insurance was critical for managing her chronic disease, but never more so than when she became pregnant with her first child.
Jen was deemed as having a high-risk pregnancy, and had to undergo frequent tests and visits with specialists. When her daughter arrived, her baby spent 24 hours in intensive care. Jen and her husband were able to manage these scares without concern for cost or coverage.
But now that Republicans had repealed the Affordable Care Act, Jen feared she would be denied coverage because of her pre-existing condition.
I also heard from a mom whose son had been struggling with substance use disorder. Like so many victims of the opioid crisis, when he finally found treatment, he could only pay for it because of the Affordable Care Act's expansion of Medicaid coverage.
The Republican health care repeal left desperate families struggling to save their children from the opioid epidemic without a way to pay for treatment.
Another family contacted me sick with worry for their daughter who was recently diagnosed with Leukemia.
The Republican repeal vote kept them lying awake at night wondering how they would afford treatment, doctors' visits and overnight hospital stays.
As a mom of three sons, these stories are difficult to hear, but they are far more painful to live through.
The Trumpcare repeal bill would have caused soaring costs; pushed 23 million Americans off health coverage; shredded protections for those with pre-existing conditions; and imposed a crushing age tax on older Americans. This vote caused anxiety and fear.
And how did Republicans respond? They threw themselves a backslapping party and said to the American people, 'You're on your own.'
But the truth is most of us will face a health crisis that we can't handle on our own. For my family, that crisis came when my mother was diagnosed with Alzheimer's and my father experienced a debilitating stroke. Without reliable health insurance, the cost of their care would have been out of reach.
And if the Republicans had their way, health care would have been unobtainable for millions of families like ours.
The American people ultimately defeated the raw deal Republicans gave them on health care, but Republicans are now coming after Medicare and Medicaid.
Democrats are offering A Better Deal: let's protect and improve the Affordable Care Act, and take bold action to drive down prescription drug prices.
We know the security of the American family starts with the ability to access affordable, quality health care. No one should have to choose between the health of their family and their ability to put food on the table or make a mortgage payment.
Democrats will never stop fighting to ensure health care is a right for all, not a privilege for a few."
The "Newsmaker of the Day" is heard every weekday morning at 6:45, 7:45 and 8:45 on AM 1450 and FM 102.7 KVML.