Update: Local Flood Watch, Sierra Wind Advisory, More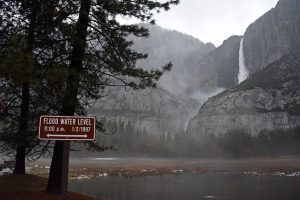 Heavy Rain In Yosemite 1/9/17

View Photos
A Flood Watch is in effect for the Mother Lode, the Sierra Nevada and the Northern San Joaquin Valley through Sunday morning.
Steady rainfall will be ending this morning over the Central Valley with a few tenths of an inch of additional rainfall possible. One to two inches of additional rain is likely over the Sierra Nevada.
Heavy rainfall, in addition to snow melt, will continue to create excess runoff that brings the threat of localized flash flooding, mud slides, rock slides and debris flows.
Moderate rises will continue to occur on mountain rivers, streams and some weirs. Stream and creek levels are expected to rise and could cause local flooding. Ponding on roads is also a possibility. Some roads may become impassable or become washed out.
The snow levels currently remain mostly above the 12,000 foot elevation. Those high snow levels will lower this afternoon as a Pacific cold front passes to the east of the region. Most of the precipitation associated with this system will be ending, but showers continuing into the nighttime hours will bring some light accumulating snow.
The snow levels this afternoon are expected to range from 5,500 to 6,500 feet. Overnight, the snow levels are forecast to drop to 5,000 to 6,000 feet. Above these snow levels, about one to three inches of snowfall are expected.
This may be enough snowfall to create minor travel difficulties over the Sierra passes this evening. If traveling over the Sierra passes this afternoon or tonight, be prepared for possible delays or possible brief chain controls. Slippery roads are likely and will bring with them the possibility of accidents. Drive with caution.
Additionally, a Wind Advisory has been issued by the National Weather Service for the Sierra Nevada above 6,000 feet until 6 PM tonight.
Winds of thirty to sixty mph will continue.
This will make it difficult to travel for high profile vehicles. There may be downed trees and power lines.
Finally, the National Weather Service has issued a Flood Warning for the Merced River at Pohono Bridge in Yosemite National Park, effective until further notice or until the Warning is cancelled.
At 1 AM this morning, the stage was 8.4 feet.
The Merced River is expected to rise above the flood stage of ten feet early this morning and will then crest near fifteen feet this afternoon. It will recede to near eleven feet after midnight Sunday.
Potential Impacts include:
* Near 9.0 feet, Chapel Meadow (south side of river) and Cooks Meadow (north side of river) begins to experience overflow.
* Near 9.5 feet, Portion of Lower Pines Campground becomes flooded. Limited site-specific evacuations begin at Housekeeping Camp located along the south-facing bank of the Merced River (Upstream from Sentinel Bridge and downstream from Stoneman Bridge).
* Near 10.0 feet (Flood Stage), Western portion of North Pines Campground located at the east end of Yosemite Valley between the confluence of the Merced River and Tenaya Creek begins to flood. Water rises to the base of the swinging bridge downstream from Chapel Meadow.
* Near 12.5 feet, Northside Drive and Southside Drive, which are the main roads in Yosemite Valley, become flooded and are closed to traffic.
All those affected by river conditions should remain alert for rapid changes and for possible forecast revisions.
A Flood Watch means there is a potential for flooding based on current forecasts. You should monitor later forecasts and be alert for possible Flood Warnings. Those living in areas prone to flooding should be prepared to take action should flooding develop.
A Wind Advisory means that winds in excess of forty mph are expected. Winds this strong can make driving difficult, especially for high profile vehicles.