'New Way California' Wants To Reshape State Republicans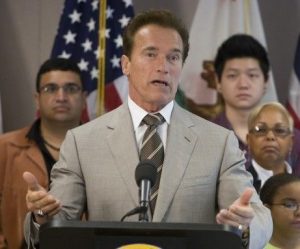 Arnold Schwarzenegger

View Photos
LOS ANGELES (AP) — Can California's faded Republican Party make a comeback?
Former Gov. Arnold Schwarzenegger took up that question Wednesday, at an event in Los Angeles organized by a group that hopes to move the state GOP in a new direction in the age of President Donald Trump.
Schwarzenegger was Thursday's KVML "Newsmaker of the Day".
The political group is called 'New Way California', which wants to reshape the GOP. The state party has been shedding voters for years, and Democrats hold every statewide office.
The former Governor was joined by another Republican centrist, Ohio Gov. John Kasich, who was a Trump rival in the 2016 presidential campaign.
California is in many ways a one-party state.
Democrats control every statewide office and control both chambers of the Legislature by hefty margins. Trump lost California by over 4 million votes.
Schwarzenegger, the last Republican to serve as California governor, has long argued that the GOP needs to claim issues usually associated with the Democratic agenda, including global warming and health care reform. He compared the California Republican Party to the sinking Titanic and warned that the party needs to be more inclusive and embrace issues like climate change.
In an obvious dig at President Donald Trump, the former California governor says voters are looking for answers but the party is giving them Twitter fights.
The "Newsmaker of the Day" is heard every weekday morning at 6:45, 7:45 and 8:45 on AM 1450 and FM 102.7 KVML.