Update: President Trump Invited By Governor Brown To Visit Central Valley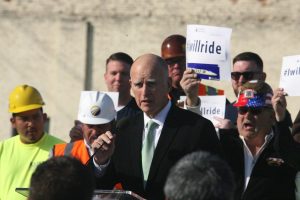 Governor Jerry Brown At CA High Speed Rail Groundbreaking In Fresno

View Photos
Update at 2:30pm: Protests in the works around President Donald Trump's California visit on Tuesday to view border wall prototypes have been confirmed down south.
While President Trump has not yet responded to Governor Jerry Brown's invitation to visit the Central Valley tomorrow and the White House has not appeared to release any further details about Trump's itinerary, this afternoon the Associated Press reports that dozens of immigrant activists, church leaders and local elected officials, while attending a press conference inside San Diego's Chicano Park are planning demonstrations to show Trump that border communities oppose his plans to build a barrier wall on the boundary line between California and Mexico.
The attending groups are asking people to join a peaceful protest against the project during Trump's planned
tour at the US-Mexico border to look at eight 30-foot tall border wall prototypes located near the existing wall in Otay Mesa.
Among those gathered at the park was Democratic U.S. Congressman Juan Vargas, whose district covers the entire California-Mexico border. He stated to reporters that Trump is not welcome in his jurisdiction.
Original Post at 9:17 am: Sacramento, CA — Ahead of President Donald Trump's first visit to California since his election, Governor Jerry Brown is inviting him to visit communities like Madera and Fresno.
President Trump will arrive in California on Tuesday to look at border wall prototypes and to hold a fundraiser in Los Angeles. This morning, Governor Brown sent a letter reading, "After you've examined your wall prototypes on the border, I invite you to head north to the Central Valley – the heart of California. Here in cities like Fresno and Madera more than a dozen bridges and viaducts are being built for the nation's first and only High-Speed Rail line. We are already putting 1,700 Americans to work. You have lamented that "we don't have one fast train" in our country. Well, Mr. President, in California we are trying to fix that. We have a world-class train system under construction. We invite you to come aboard and truly "Make America Great Again."
The Trump Administration has given no indication it will accept Governor Brown's invitation. The two sides have been at odds over recent months because of a variety of contentious issues. The federal Justice Department recently filed a lawsuit over sanctuary city legislation, and California has filed a suit at the federal government over plans to expedite construction of the border wall.
Last week it was announced that the cost of the high speed rail project ($77-billion) is increasing and the project timeline is extended. Click here to view the earlier story.