Wind Advisory Issued For The Sierra Nevada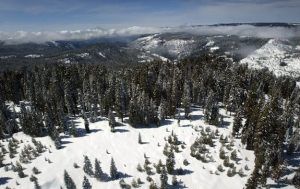 Sierra Nevada

View Photos
The National Weather Service in Sacramento has issued a Wind Advisory for the Sierra Nevada, which is in effect from 1 PM this afternoon through 4 AM Sunday.
Winds of twenty-five to forty mph are expected with gusts up to sixty-five mph.
The strongest winds are expected from late this afternoon into tonight.
Some of the impacts will include blowing debris and more difficult driving for higher profile vehicles.
There are no restrictions up to the winter closure gates on Highway 108 Sonora Pass (Snow Park), Highway 4 Ebbetts Pass (shortly past the Mt Reba Turnoff) and Highway 120 Tioga Pass (Crane Flat). Additionally, there are no restrictions on Highway 88 Carson Pass, which is open all the way across the Sierra.
A Wind Advisory means that sustained winds of 25 mph or higher or gusts to 40 mph or higher are expected. Winds this strong can make driving difficult, especially for high profile vehicles. Use extra caution.