Bill Targets Sex Abuse Charges In Amateur Athletics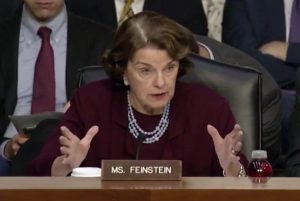 California Sen. Dianne Feinstein

View Photos
Sacramento, CA — A bill authored by California Senator Dianne Feinstein that would require amateur athletics governing bodies to report sex abuse allegations to local or federal law enforcement, or a child welfare agency, within 24 hours passed the senate Tuesday.
The measure comes in the wake of the conviction of Larry Nassar, former US Gymnastics national team doctor. Feinstein notes, "The bill extends the statute of limitations. It doesn't begin to run, and this is significant, until victims realize they've been abused. This is especially important in the case of young women." She adds that it is often difficult for children to recognize that they have had crimes committed against them until much later on into adulthood.
The bill is supported by the National Governing Body Council of the U.S. Olympic Committee, the U.S. Center for SafeSport and the U.S. Olympic Committee. It gained bi-partisan support and it now moves to President Donald Trump's desk.