Trump Administration Moves To Expand Offshore Drilling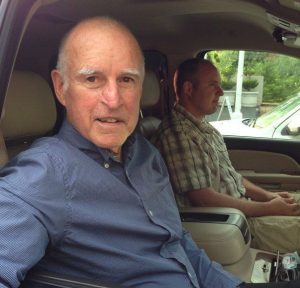 Governor Brown at the Mother Lode Fair: Photo taken by: Tracey Petersen

View Photos
Sacramento, CA – In a move to vastly expand offshore drilling from the Atlantic to the Arctic oceans, the Trump administration wants to open up federal waters off the California coast for the first time in more than three decades.
In a new five-year drilling plan it also calls for opening new areas of oil and gas exploration along the East Coast from Georgia to Maine, where drilling has been blocked for decades. Governors from Washington, Oregon and Jerry Brown have released a joint statement blasting the feds plan.
"They've [the Trump administration] chosen to forget the utter devastation of past offshore oil spills to wildlife and to the fishing, recreation and tourism industries in our states. They've chosen to ignore the science that tells us our climate is changing and we must reduce our dependence on fossil fuels. But we won't forget history or ignore science." The Governors ended with their own push back stating, "For more than 30 years, our shared coastline has been protected from further federal drilling and we'll do whatever it takes to stop this reckless, short-sighted action."
Last April, the trio gave a joint response to a planned presidential executive order to revise offshore oil and gas leasing in federal waters.