Trump Administration Approves Disaster Declaration For Wildfires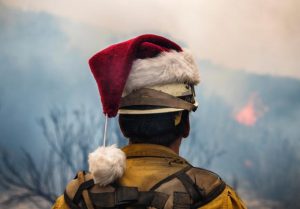 Firefighter assigned over Christmas to Thomas Fire

View Photos
California will receive extra federal assistance recovering from the largest wildfire in the state's recorded history, and others, that ignited over the past month.
The presidential disaster declaration covers fires that ignited beginning on December 4, the start date of the 281,893 acre Thomas Fire, in Santa Barbara and Ventura counties. The fire destroyed over 1,000 structures and resulted in two fatalities. The declaration was signed on Tuesday, two weeks after it was requested by Governor Jerry Brown.
The Thomas Fire is 92-percent contained and 458 firefighters remain assigned to the incident. The declaration also covers additional fires that ignited in the Los Angeles and San Diego regions.