Brown Focuses On Wildfires At France Climate Summit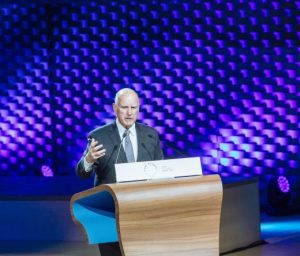 Governor Jerry Brown Speaks At France Climate Summit

View Photos
Paris, France — Governor Jerry Brown this week represented the United States at a summit in France recognizing the two-year anniversary of the Paris Agreement related to climate change.
Earlier this year President Donald Trump pulled the United States out of the pact, arguing that it unfairly undermines the national economy, so Governor Brown was invited on behalf of the US because of the state's regulations, and efforts, aimed at reducing carbon emissions. Arguing that the magnitude of the current fires in Southern California are a result of increasing temperatures, Brown stated, "These fires, combined with the ones from just a few weeks ago in Northern California, add up to thousands of homes being burned and even people being killed because the fires move so fast. This is an example of what we can expect more of in the very near future."
The US was also represented at the summit by former Governor Arnold Schwarzenegger and past New York City Mayor Michael Bloomberg. Others on hand included the President of France, the United Nations Secretary General, the World Bank President and various heads of state.