Roadwork Creates Traffic Stack Ups Between Jamestown-Sonora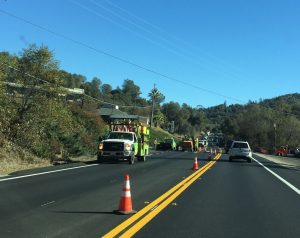 Traffic backup between Jamestown and Sonora due to Caltrans work Dec 7 2017

Expand
Sonora, CA — Here is a heads up for motorists on Highway 49/108, although Caltrans warned of ten-minute delays this week the wait times today are exceeding that.
In the mid-morning some drivers reported experiencing traffic stalls of 15 minutes or more as Caltrans crews worked, mostly along the shoulders. While flow slowed heading east into Jamestown, the significant delays began just afterwards. Heading west from Sonora, travel slowed on the downhill slope past Washington Street.
The scheduled work zone was slated to run between Chicken Ranch Road and 108 from 9 a.m. until 5 p.m. while workers attended to striping work.
Highway 120 cracked pavement sealing repairs added Monday to the this week's chores between Big Creek and the Tuolumne/Mariposa County line are also generating ten-minute delays every weekday from 8 a.m. until 3 p.m.
For the rest of this week's Caltrans work roster, click here.