Democrats: The Bad News Of The Republican Budget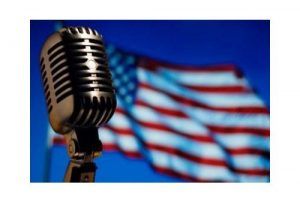 Microphone and US Flag

View Photos
Senator Bernie Sanders (I-VT) delivered the Democratic Weekly Address and gave his reaction to the President's budget and tax proposal.
Sanders was Tuesday's KVML "Newsmaker of the Day". The Democrats failed to provide a transcript. Here are Sanders edited words, as accurate as possible:
"Here's the good news. Together we defeated the efforts of Trump and the Republican leadership to throw up top 30 million Americans off the health insurance they currently have. We did that by standing up and fighting back. At rallies, town meetings, through social media, making phone calls, sending e-mails, etc. That's the good news. We took them on and we won.
The bad news is that Trump and his Republican colleagues are back again. Now, they are pushing the most destructive and unfair budget and tax proposals in the modern history of our country, a budget that would do incalculable harm to tens of millions of working families, to our children, to the sick, to the elderly and to the poor. This budget is the Robin Hood principle in reverse.
It takes from those in need and gives to those who are already living in incredible opulence. Donald Trump and Republicans in Congress claim that their tax plan would benefit the middle class. Nothing could be further from the truth. According to the nonpartisan Tax Policy Center, by the end of the decade, nearly 80% of the tax benefits of the Republican plan would go to the top 1%. By repealing the estate tax alone, the Republican budget would give $269 billion in tax breaks to the top two tenths of one percent.
The top two tenths of one percent, the very wealthiest families in the country like the Walton family, the Koch brothers family, the Sheldon Addleson family and by the way, the Trump family. Meanwhile, while their budget provides $1.9 trillion in tax breaks to the top 1%, they make massive cuts in healthcare, education, nutrition, housing and environmental protection.
The Republican budget, which will likely be debated on the floor of the Senate next week, cuts medicaid by more than $1 trillion over a 10-year period, throwing some 15 million Americans off of the health insurance they currently have. Further, this budget does what the Republicans have not yet attempted to do in their previous healthcare legislation and that is to make a $473 billion cut to medicare. As many of you will remember, one of the major tenets of Donald Trump's campaign for President was that he would not cut social security, medicare and medicaid. Well, this budget makes massive cuts to medicaid and medicare and I've got a message for President Trump.
Tell your Republican friends that they should respect your campaign promises or that you will veto any legislation that cuts medicaid or medicare. Here's what else this horrific budget does. If you are a low-income senior citizen, it makes $4 billion cuts to the energy assistance program, meaning you might go cold next winter. If you're a working class student trying to figure out how you could possibly afford college when the price of college is so very high, your dream of a college education could evaporate because this budget cuts pell grants by $100 billion.
If you are a low-income pregnant woman, please know that the Republican budget would make about $6.5 billion in cuts to the women, infants and children program, eliminating nutrition assistance to over 1 million pregnant women, new moms, babies and toddlers all across this country. Can you imagine, at a time when we have the highest rate, one of the highest rates of infant mortality in the industrialized world, that these guys want to cut an important program for low-income pregnant women?
At a time when millions of Americans are paying 40 or 50% of their limited incomes on housing, this budget eliminates housing assistance for more than 1 million families due to a cut of $37 billion to the Section 8 Rental Assistance Program and other housing programs.
This Republican budget would cut more than $5 trillion from education, health care, affordable housing, transportation and other programs that working people desperately need over the next decade, while giving huge tax breaks to the people who need them the least. As the ranking member of the Budget committee, I will do everything I can to oppose this horrific set of priorities established in this budget. We need a budget that reflects the needs of working families, not just the wealthiest people in our country, nor the largest campaign contributors. Our job now is to stand up, fight back and defeat this horrendous budget."
The "Newsmaker of the Day" is heard every morning at 6:45, 7:45 and 8:45 on AM 1450 and FM 102.7 KVML.