Democrats: Trump Should Stand With Puerto Rico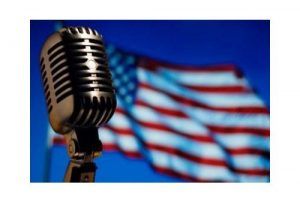 Microphone and US Flag

View Photos
During the Democratic Weekly Address Senator Catherine Cortez Masto (D-NV) said she shares the frustration of those in Puerto Rico and the Virgin Islands "who feel forgotten and neglected."
Cortez was Tuesday's KVML "Newsmaker of the Day". Here are her words:
"Hello, my name is Catherine Cortez Masto, I'm a Senator from the Great State of Nevada.
In the month of September, Americans in the Caribbean and along the southern United States experienced three hurricanes of the century – Harvey, Irma, and Maria.
These historically destructive hurricanes flooded homes, closed businesses, and turned the lives of millions of Americans upside down. So many heroes – including brave DREAMers – answered the call to rescue those that were trapped and provide shelter and comfort to the displaced.
I am proud of the efforts of all of our brave first responders – many gave their lives for their communities. I also want to take a moment to thank the many Nevadan's participating in the relief efforts, my best wishes go with the Nevada Army National Guard members from Reno and Carson City, who will soon be headed to Puerto Rico. Your actions make us all proud to be Americans.
This pride is tempered by the recognition that millions are still waiting for help. I share in the frustrations of Americans in Puerto Rico and the U.S. Virgin Islands who feel forgotten and neglected. I encourage Americans to volunteer and donate to legitimate organizations helping in relief efforts. Every dollar and every volunteer hour spent brings hope and relief to the people of Puerto Rico and all those impacted by these tragic hurricanes.
Right now, 3.5 million Americans are without power, food, and clean drinking water in Puerto Rico. Right now, hospitals on the island are unable to serve patients because backup generators do not have fuel. The elderly do not have their medicine. Puerto Ricans are fleeing flooded towns and cities with polluted waters, some with dead bodies floating in them, and looking to mountain streams to find safe drinking water. This is a public health crisis and must be treated like one.
Senate Democrats are standing with the people of Puerto Rico. Republicans in Congress must act now to deliver on the Trump administration's request for additional funding for search, rescue, and recovery operations.
We also call on the President to stand with the people of Puerto Rico, focus on saving lives, and tweet less about Wall Street creditors targeting the island. FEMA must waive any requirement forcing the people of Puerto Rico to contribute additional funds to their own relief effort in the middle of a debt crisis.
We wouldn't do this to Florida, Texas, or any of the other 50 states. It's inhumane and irresponsible to keep an open tab on saving lives.
I commend the efforts of the Federal Emergency Management Agency and of Customs and Border Protection in delivering water and providing rescue workers to assist in relief efforts.
The impact of these hurricanes will be felt for decades. We must render aid and protect all survivors – documented and undocumented.
That is why I joined my colleagues to call on President Trump to extend the arbitrary October 5th deadline for DREAMers to request extension of the Deferred Action for Childhood Arrivals status. DREAMers are fellow survivors of these terrible storms.
And to the people of Puerto Rico and the U.S. Virgin Islands, I want you to know that you deserve and will have the full support of our government as you recover and rebuild.
Thank you and we stand with you."
The "Newsmaker of the Day" is heard every weekday morning at 6:45, 7:45 and 8:45 on AM 1450 and FM 102.7 KVML.