Two Passes Opened For The Weekend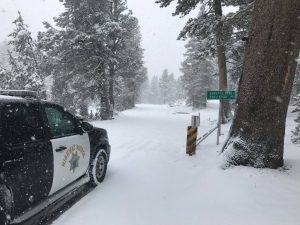 Snow along Ebbetts Pass HWY4

View Photos
Sonora, CA – Two of the three mountain passes have reopened to travelers but the recent snowfall has one still closed to motorists.
Caltrans reports Highway 108 Sonora Pass and Highway 120 Tioga Pass reopened this afternoon once crews completed snow plowing operations. However, Highway 4 Ebbetts Pass remains closed at the Mount Reba turnoff due to heavy snow. There is no estimated time given by Caltrans for its reopening.
A three of the mountain passes were closed Wednesday night as a weather system that included a winter weather advisory for the Sierra Nevada region passed through.  Pictures in the image box show the snowfall. They were taken by a concerned CHP officer who head up Highway 4 to check on hikers and campers in the temporarily closed area of the roadway.  It was a good thing he did as he came upon six cold and weary hikers from the Pacific Crest Trail. The officer noted that none of them appeared prepared for the sudden cold weather. He gave them a ride to a safe and warm location.  The CHP notes that this is a good reminder to always be prepared for any weather when out in the backcountry especially with hunting season under way in Tuolumne and Mariposa counties and Calaveras' season to begin tomorrow (Saturday, Sept. 23).
Road conditions can be found anytime by going to myMotherlode.com and clicking on traffic.