Significant Weather Advisory Issued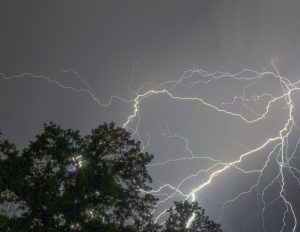 Tuolumne Lightning

View Photos
The National Weather Service has issued a Significant Weather Advisory for Tuolumne, Calaveras and Alpine Counties until 3:45 PM.
At 2:18 PM PDT, Doppler Radar was detecting developing thunderstorms over the Sierra from near Kyburz to Bear Valley to near Pinecrest and Strawberry.
The storms will be moving to the west up fifteen mph.
Dime size hail, winds gusts in excess of thirty mph and dangerous lightning will be possible with these storms.
The activity could move into the Mother Lode elevations later this afternoon.
Other possible locations that may be impacted include: Sonora, San Andreas, Calaveras Big Trees State Park, Lake Alpine, Paloma, Kirkwood, Carson Pass, Big Bend Summit, Pollock Pines, Camino, Smithflat, Tamarack, Upper Blue Lake, Kirkwood Ski Area and Smith Station.
Dangerous cloud to ground lightning is occurring with these storms. Lightning can strike ten miles away from a thunderstorm. Seek a safe shelter inside a building or vehicle.