Brown Signs Cap-And-Trade Extension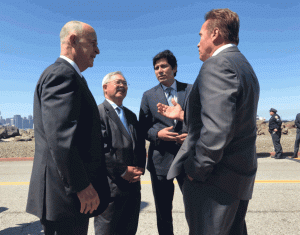 Governor Jerry Brown talks cap-and-trade with SF Mayor Ed Lee, Senator Kevin de Leon and former Governor Arnold Schwarzenegger

View Photos
San Francisco, CA — With former Governor Arnold Schwarzenegger at his side, Governor Jerry Brown signed a 10-year extension of the cap-and-trade program.
Cap-and-trade was first signed into law by Schwarzenegger in 2006 as part of AB 32, the Global Warming Solutions Act.  The legislation is on-track to reduce carbon emissions to 1990 levels by the year 2020. The extension will put the target at 40-percent below 1990 levels by the year 2030.
Cap-and-trade requires high polluting companies to purchase carbon offset credits. The Governor's Office reports that the revenue collected has gone towards helping to preserve and restore tens of thousands of acres of open space, funded 30,000 energy efficiency improvements in homes, helped plant thousands of new trees and boosted public transit programs.
Governor Schwarzenegger praised the bi-partisan effort to extend cap-and-trade, as seven Republican Assemblymembers were in favor and one Republican Senator. The bill was signed at a ceremony staged at Treasure Island in the San Francisco Bay Area.
Mother Lode Senator Tom Berryhill was one of the Republicans in support, and he praised it for suspending the contentious $150 fire fee placed on properties in unincorporated rural areas. He wrote about it in a recent myMotherLode.com blog.