Governor Backs 'America's Pledge' Initiative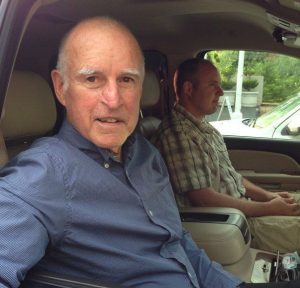 Governor Brown at the Mother Lode Fair: Photo taken by: Tracey Petersen

View Photos
Sacramento, CA — California Governor Jerry Brown has come up with another initiative to keep America on track to reduce greenhouse gas emissions in accordance with the international Paris climate agreement.
Brown is teaming up with former New York City Mayor Michael Bloomberg to create a data sharing plan called "America's Pledge." It will compile climate commitments by states, cities, businesses and universities all in one place where they can be easily tracked and shared. It is Brown's latest effort to showcase the country's commitment to fighting climate change despite President Donald Trump's decision to withdraw from the international pact.
"Today we're sending a clear message to the world that America's states, cities and businesses are moving forward with our country's commitments under the Paris Agreement – with or without Washington," said Governor Brown.
The data will be unveiled at this year's United Nations Framework Convention on Climate Change in Bonn, Germany, in November. Ahead of the convention, Brown has been named as a Special Adviser For States and Regions. Additionally, Bloomberg is a U.N. special envoy for cities and climate change.
Following the President's announcement to withdraw from the Paris Accord, as reported here in June, Brown got a boost when ten states decided to join his U.S. Climate Alliance that vows aggressive action to deter climate change.
However, not all California lawmakers are backing Brown's initiatives. Mother Lode Congressman Tom McClintock has gone on the record applauding President Trump's decision, as reported here.
Brown has also announced plans to host an international summit in San Francisco next September, click here for details.