Weekend Heat Advisory Issued For The Mother Lode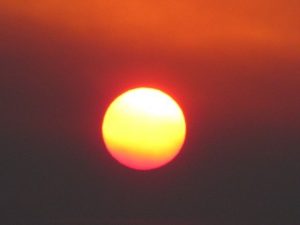 Sunrise

View Photos
The National Weather Service has issued a Heat Advisory for the Mother Lode, the Northern San Joaquin Valley and the Sierra Nevada, which is in effect from 11 AM this morning through 11 PM Sunday.
Hot temperatures will continue well above normal in the Central Valley and the Sierra Nevada foothills today, and to a lesser extent on Sunday.
Somewhat cooler temperatures are expected on Sunday, mainly for the Delta-influenced areas.
Some areas will be nearing record heat levels this afternoon. Overnight lows are expected to remain warm Saturday night with temperatures ranging from the mid sixties to mid seventies.
Long outdoor exposure will increase the chances for heat related illness, especially for sensitive groups and people without access to air conditioning. Heat stress is also possible for livestock with limited relief from the heat overnight. Area waterways are running very cold and fast, increasing the risk for hypothermia and water rescues.
A Heat Advisory means that a period of hot temperatures is expected. The combination of hot temperatures and higher humidity will combine to create a situation in which heat illnesses are possible. Drink plenty of fluids, stay in an air-conditioned room, stay out of the sun, and check up on relatives and neighbors.