Last Weekend In June Events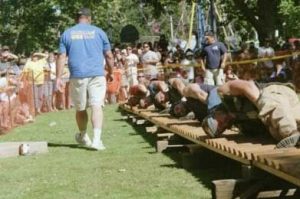 Tuolumne Lumber Jubilee

View Photos
As temperatures remain in the high 90's there are several events this weekend and several more Fourth of July events scheduled for next weekend as listed in our community calendar.
As reported here, the Tuolumne Lumber Jubilee is underway with rides open at 3 PM, booths with crafts adn food, and mini Jack-n-Jill contest begins at 5 PM. The Jubilee Queen Coronation and live music start after 6 PM tonight. Saturday events will begin with a parade at 10 a.m., the carnival will open at 11 am, expect arm wrestling contests and a junior tug of war between Summerville and Sonora High school students, music and more. Sunday will feature logging events including ax throwing, crosscut sawing contests and conclude with the annual Tug-of-War. The event listing is here.
The Tuolumne County Chamber of Commerce is hosting their 3rd Annual "Taste of the Islands" Luau at 5pm tonight. The Authentic Hawaiian Roast pig Feast will be at 6pm, both silent and a live Auction/Raffle will be conducted with Hawaiian music plus a "Best Dressed Contest" and "HULA Contest". Ticket details are here.
Tuolumne County Amateur Radio and Electronics Society (TCARES) will be joining other Amateur Radio operators (Hams) across the county in a 24-hour contest to make as many contacts as they can in a 24-hour period. They cannot use any public utility for power, they run on generators, solar, or batteries. Location and details are in their event listing here.
This Saturday evening there will be Fireworks Over New Hogan Lake Sponsored by the Valley Springs Booster Club. Fireworks at Ironstone will be next Saturday, July 1 and fireworks return to Lake Don Pedro after being canceled for several years due to the drought on July 2nd.
All the Saturday events are listed here.