Democrats: Restore & Expand The Freedom To Dream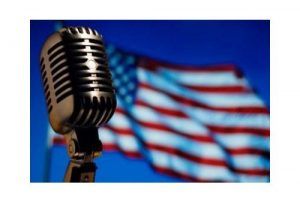 Microphone and US Flag

View Photos
Representative Eric Swalwell (D-CA) in the weekly Democratic address talked about the impact of Trump administration higher education policies.
Swalwell was Tuesday's KVML "Newsmaker of the Day". Here are his words:
"Hello – I'm Congressman Eric Swalwell and I wanted to talk to you about the devastating effects President Trump's education budget will have on the hopes and dreams of all Americans.
I'm at Dublin High School, in the heart of my California Congressional district, where I chased my own dreams growing up.
I'm the son of a father who was a police officer and a mother who worked multiple jobs to raise four boys. My parents' dream was that of most parents: that their children do better than they did.
My parents chased that dream across America — I lived in 11 different houses and attended nine different schools before settling here. I saw them work hard, sacrifice constantly, and save religiously because they wanted me and my brothers to attain something they never did: a college education.
I achieved that dream for them and racked up a lot of student loan debt I still owe today. But I went on to become a prosecutor, a city councilman for my hometown, and a Congressman.
This dream of a better life for our kids through education and hard work is at the heart of our national identity. It's in our DNA. It's what unites us and defines us, no matter who we are or where we come from.
Yet today, and especially with President Trump's proposed budget, the American Dream is becoming further out of reach.
For too many Americans, college's cost has grown too prohibitive. And for those who get to and through college, the crushing burden of debt leaves millions in financial quicksand, making it harder to start a family, buy a home, or turn a good idea into a business.
That's why, two years ago, I started Future Forum: a group of 26 young House Democrats, focused on issues and opportunities for millennials – America's largest, most diverse, and best-educated generation.
We've visited almost 40 cities across our great country to listen to young people where they gather: at community colleges and universities, workforce training centers, start-ups and established companies.
We've learned that the issues facing our generation — from college debt to not having enough good paying jobs — affect every branch of the family tree.
At one of our events, we met with 200 brilliant young biotech scientists. To my surprise, the first question came from a woman in her 50s – she said she felt like a party-crasher at our millennial listening tour, but she had come to the event for her daughter.
She told us her daughter, with the help of loans, was first in the family to go to college. After graduating, she told us her daughter couldn't find a job, and her daughter's debts started mounting. Her daughter had to move back home. And the kicker, this happened at the same time that her daughter's elderly grandparents were ailing and had to move in, too.
Too many families like hers are squeezed from both ends. Too many families are struggling not even to get ahead, but just to get by.
So we've proposed ideas like free community college; letting student loan borrowers refinance their debt like you can do with a home loan; and doubling the tax deduction on student-loan interest.
But as we strive to move forward, President Trump's education agenda raises barriers.
The Trump budget ends loan forgiveness for teachers, social workers, police officers, firefighters, nurses and others serving our communities, often in low-paying jobs.
This budget freezes Pell Grants without indexing them for inflation, making it harder for low-income students to get the aid they need.
And it would nearly cut in half the work-study program which makes college more affordable for millions of students while giving them valuable job experience.
On our tour, we've seen the hopes and aspirations of the next generation rising in classrooms like this. President Trump's budget deflates those dreams.
Fortunately, we in Congress are not powerless to save them.
In 1941, President Franklin Delano Roosevelt outlined four freedoms on which every man, woman, and child should be able to rely: freedom of speech, freedom of worship, freedom from want, freedom from fear.
Our challenge in Congress now is to restore a fifth, uniquely American freedom: the freedom to dream. The dream that our parents dreamed for us, and that we all dream for our own kids.
With all of our hands and all of our hearts, House Democrats are committed to expand your family's freedom to dream.
Thank you."
The "Newsmaker of the Day" is heard every weekday morning at 6:45, 7:45 and 8:45 on AM 1450 and FM 102.7 KVML.