Brown Opposes Trump's Offshore Energy Strategy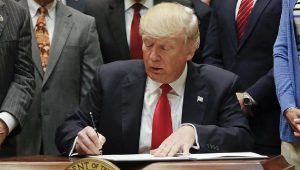 President Trump Signs Executive Order On Energy

View Photos
Sacramento, CA — California Governor Jerry Brown is upset over an executive order signed this morning by President Donald Trump aimed at expanding oil and gas drilling off the coastlines.
The President's action, entitled, "Implementing An America First Offshore Energy Strategy," calls for undoing some of the environmental actions put in place during the final year of the Obama Administration. It also calls for a full review of any issues preventing additional offshore drilling.  President Trump's executive order reads, "America must put the energy needs of American families and businesses first and continue implementing a plan that ensures energy security and economic vitality for decades to come.  The energy and minerals produced from lands and waters under Federal management are important to a vibrant economy and to our national security."
Governor Jerry Brown's office has released a statement signed by him, as well as Washington Governor Jay Inslee and Oregon Governor Kate Brown, all Democrats, reading, "Today's unilateral action is short-sighted. For good reason there has been no federal expansion of oil and gas drilling along our shared coastline for more than 30 years. We still remember what happened in Santa Barbara in 1969, Port Angeles in 1985, Grays Harbor in 1988 and Coos Bay in 1999. We remember the oil soaked beaches and wildlife and the devastating economic impacts to local communities and the fishing industry. Now is not the time to turn back the clock. We cannot return to the days where the federal government put the interests of big oil above our communities and treasured coastline."
It is the latest issue putting California's Democratic leaders at odds with the White House.
This afternoon, state Democratic Senator Beth Hannah announced that she will write and introduce legislation in response to the order, calling for a statewide ban on new oil and gas infrastructure pipelines in state waters and along the coast.
You can find President Trump's full executive action by clicking here.