Plenty Of Spring Events In April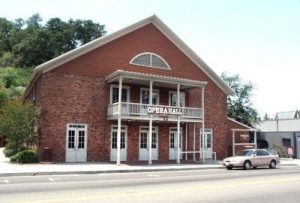 Sonora Opera Hall

View Photos
This weekend the weather forecast is sunny, great for viewing airplanes, or attending the Children's Fair, and Earth Day events.
As detailed here yesterday the California Nurses Association is sponsoring two town hall meetings on the Healthy California Act SB 562 today at the Sonora Opera Hall.
Friday catch a performance by the 7th and 8th graders at Connections Visual and Performing Arts Academy are staging a production of the musical, "Once Upon A Mattress." Details about the musical based on the story of The Princess and the Pea are here. Sierra Repertory Theatre continues its performances of NOISES OFF, a comedy about an acting troupe details are here.
Saturday is the Young Eagles Rally at Columbia airport and Calaveras Airport's annual Fly-In and Open House. As detailed in Wednesday's KVML news maker here, the Calaveras Fly-In has no admission fee to view airplanes, classic cars, Mountain RC Flyers's radio controlled aircraft and more. Plane rides, food and parking may be purchased at the event, details are here.
Saturday at the Mother Lode Fairgrounds from 10AM to 2PM is the annual Children's Fair put on by Infant/Child Enrichment Services. The event offers free admission and lunch, activities and prizes for young children and community resource information for parents.
Saturday at Murphys Community Park the 6th Annual Off the Beaten Path Walk/Run for Autism Awareness will be held. Competitive runners, and people who just enjoy a stroll are invited to take part. The money raised will go to support Mind Matters, the Murphys based non-profit clinic that treats Autism and other learning disorders. More details are here.
At the Sonora Opera Hall is the April 22nd Extravaganza. First there will be a March for Science at 10am from Courthouse Park to the Opera Hall where there will be a free Earth Day celebration with music, vendors, speakers, and activities until 7pm. Details are here.
As the Mother Lode Round-Up draws near events leading up to the Rodeo and Parade are listed in our events calendar. Saturday is the Great Steak BBQ and raffle and the Rawhide Classic Team Roping and Barrel Racing will also take place this weekend at the Posse Grounds on Rawhide Road. Ticket prices and the list of Round-Up activities are here.
Saturday evening Summerville Parent Nursery School is hosting it's first annual semi-formal Masquerade Gala and silent auction at the Tuolumne Memorial Hall to benefit the parent education program and pre-school. Event details are listed here.
Another dinner event on Saturday is the second annual Give Some One A Chance (GSAC) dinner. GSAC is a non-profit organization whose mission supports low and no income unsheltered persons in Tuolumne County, details are here.
Also on Saturday night the Lyrids Meteor Shower is underway. Join park rangers and observe the constellations, stars and other heavenly bodies above New Melones Lake with telescopes. Details are here.
Details on a second free "Age Well, Drive Smart class" presented by the California Highway Patrol for mature drivers is here.
Sunday is the 27th Annual Knights Ferry Gold Country Peddlers Faire. There will be over 100 booths, antiques and craft/art items, more details here. Also on Sunday, in Angels Camp at Utica Park, is the 19th Annual Earth Day Celebration. The event is from 11AM to 6PM with music, dancers and speakers.