Significant Weather Advisory Issued For Mother Lode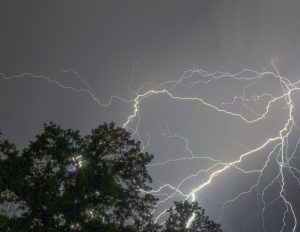 Tuolumne Lightning

View Photos
A Significant Weather Advisory has been issued for Northwestern Tuolumne County and Central Calaveras County until 2:45 PM.
At 2:01 PM, Doppler Radar was tracking a strong thunderstorm over Forest Meadows, or eleven miles north of Sonora, moving northeast at twenty mph.
Dime size hail and winds in excess of thirty mph will be possible with this storm.
Locations impacted include Sonora, Calaveras Big Trees Sp, Tuttletown, Vallecito, Rail Road Flat, Copper Cove Village, Jupiter, Mountain Ranch, Springfield, Angels Camp, Avery, Forest Meadows, Copperopolis, Carson Hill, Chinese Camp, Dorrington, Phoenix Lake-Cedar Ridge, Angels Camp, Arnold and Columbia.
Torrential rainfall is also occurring with this storm, and may lead to localized flooding. Do not drive your vehicle through flooded roadways.
Additionally, the National Weather Service has extended the Winter Weather Advisory for the Sierra Nevada through 8 PM tonight.
Moderate to heavy snow is expected at times, through this evening.
An additional three to eight inches of snow is expected above the 4,000 foot elevation.
A Winter Weather Advisory for snow means that periods of snow will cause primarily travel difficulties. Be prepared for snow covered roads and limited visibilities, and use caution while driving.