Second Saturday In April Events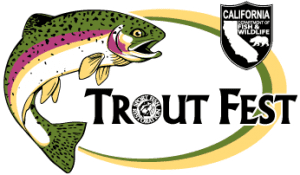 Trout Fest Logo

View Photos
Since April started on a Saturday, this weekend is already the second Saturday with galleries open for Downtown Sonora's Art Night. Musicians participating in Second Saturday Art Night may have a single blue string on their instruments in recognition of April as sexual assault awareness month. The awareness campaign is sponsored by the Center For A Non Violent Community details are in the event listing here. The weather will be windy and rainy but most walkways are covered.
Friday night is the Tuolumne County Historical Society's annual Lamplight dinner, reservations are required, see the event listing here for details.
Saturday is the Jamestown Family Resource Family Pancake Breakfast at Jamestown Community Hall. Details are here.
This Saturday is Trout Fest at Moccasin Creek Hatchery. The event promises to let 15 year old children and younger children touch a fish, taste a fish, feed a fish, and catch a fish. Details about fly casting, activities like fish printing, a trout touch pool, and trout dissection and cleaning are all part of the event. All activities are free, the event listing is here.
Sunday morning attend the Girl Scouts Pancake Breakfast at the Sonora Elks Lodge or enjoy the La Grange Odd Fellows' Monthly Breakfast. Sunday is the last day to see Sierra Repertory Theatre's SISTER ACT.
Easter is next Sunday, April 16 but Passion Week Services begin at the Sierra Bible Church Sunday. Saturday the Sonora Family Moose Lodge is offering Easter fun with cookie decorating, fishing booth cake walk, and an egg hunt. It's free and open to the public as detailed Kid's Easter Party event listing here. More Easter are listed in our events calendar next Saturday and Sunday.
The 41st Annual Columbia Wine Tasting will be held Sunday after noon at Columbia State Historic Park. Railtown Wildflower Train rides at Railtown 1897 are available, details here.
The St. James Concert Series is presenting Violinist, Makena Clark and friends.