Celtic Fair And Second Saturday Weekend Events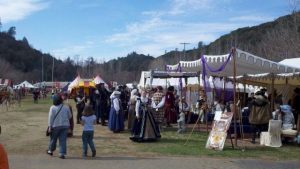 Celtic Faire

View Photos
This weekend is the big Celtic Fair at the Mother Lode Fairgrounds and Downtown Sonora's Second Saturday.
The Celtic Fair begins Friday at 10AM at the Mother Lode Fairgrounds. Have tea with the Queen, or whisky at the new Whiskey Tasting Lounge, enjoy live music, dancers and entertainers, 100+ Celtic vendors, craftsman, and artisans who all celebrate over 30 years of this event. Bands playing Friday, Saturday and Sunday include the Wicked Tinkers, Celtica Pipes Rock with Chelsea Joy, The Black Irish Band, Black Eyed Dempsey's and many more.
Saturday night is the VIP party with live music and entertainment where you can meet the Knights of Mayhem who compete in full contact jousting in the International Ultimate Jousting Championships. Other fully armored Celtic Knights will also battle it out in combat tournaments all weekend. The ceremony for the champion of the heavy armored class will be at 3:30PM on Sunday. There is free parking and shuttle service in a loop around downtown Sonora, map is here. There will not be service at WalMart this year. Ticket prices and event details are listed here.
Tonight the Thursday Indie Movie Night at the Sonora Opera Hall will feature the film The Full Monty with a discount for groups of four or more women together paying half price ($5). Bring a chair or use the available chairs, drinks and popcorn are available. Doors open at 6:00 and the movie begins at 7:00 pm the proceeds are used to fund Downtown Sonora events like 2nd Saturday Art Night. The Art Night features music and art in the various businesses downtown and you can shop or dine until at least 8:00 pm.
Other events this weekend include Ice Skating at Long Barn Lodge with the Jamestown Youth Center. The event benefits youth center programs, ticket information is here. Greenhorn Creek Resort is hosting a job fair, and you can join mountain bikers at the
New Melones Lake Visitor Center and learn more about mountain biking at this event.
Over in San Andreas at the Calaveras Performing Arts Center, enjoy STAR WRECK: To Boldly Go Far, Far Away, a musical parody that "bends the rules of time & space" all the details are here. Sister Act continues performances at the Sierra Repertory Theatre.
Review weather details here bring sunscreen and don't forget it is finally time to spring forward with daylight savings time at 2am on Sunday March 12th.
Next weekend Murphys will celebrate the 25th Annual Murphys Irish Day.
Next Week: Click on a date for more events coming up

S
M
T
W
T
F
S
12
13
14
15
16
17
18