Sierra Nevada Winter Weather Advisory Issued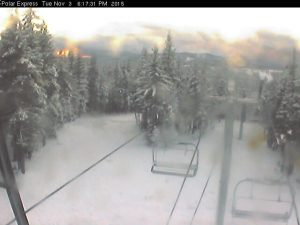 Bear Valley Polar Webcam Image

View Photos
A couple of relatively weak weather systems are forecast to drop southward through Northern California over the next few days.
The first will move through from north to south late today and Saturday.
The second system will move through Sunday into Monday.
Although neither of these systems are particularly strong, they will contain cold air producing very low snow levels compared to the warmer storms of the last several weeks.
Snow levels with the first system could go as low as 2,500 feet. This would bring snow into the Mother Lode.
Total snow accumulation with the first system will range from one or two inches.
The second system will be slightly warmer with the expected snow levels around 3,000 feet.
The National Weather Service has issued a Winter Weather Advisory for the Sierra Nevada from 10 AM Sunday to 4 AM Monday.
Total snow accumulations with this system will range from four to six inches.
Additionally, A Flash Flood Watch has been extended for the Northern San Joaquin Valley through late Thursday night.
Don Pedro and other local dams are making large reservoir releases that are raising river levels along the lower San Joaquin River. These elevated levels are causing flooding in the low-lying areas along the river and increasing concerns on the levees in the area.
Previously identified concern areas on local levees will continue to see increased river levels. As a precaution, San Joaquin County officials and the National Weather Service are encouraging local residents to be prepared to take action in the event that levee conditions were to deteriorate.
A Flash Flood Watch associated with levees means that there are conditions that could affect levee stability. If levee conditions were to deteriorate into a failure, it could lead to flash flooding and the rapid arrival of flood waters within the area protected by the levee. People in the area of the Flash Flood Watch should monitor news outlets for updates to this situation. Be prepared to quickly evacuate should a Flash Flood Warning be issued.
A Winter Weather Advisory for snow means that periods of snow will cause primarily travel difficulties. Be prepared for snow covered roads and limited visibilities and use caution while driving.