Brown Introduces Dam Safety & Infrastructure Plan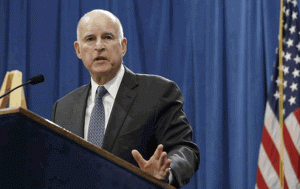 Governor Jerry Brown

View Photos
Sacramento, CA — Governor Jerry Brown put forward a plan designed to improve dam safety, update flood protection and help the state's aging water infrastructure.
Brown was Wednesday's KVML "Newsmaker of the Day".
There are four major points to the plan introduced last Friday:
1. Invest $437 million in near-term flood control and emergency response actions by redirecting $50 million from the General Fund and requesting a $387 million Proposition 1 appropriation from the Legislature as soon as possible.
2. Require emergency action plans and flood inundation maps for all dams.
3. Enhance California's existing dam inspection program.
4. Seek prompt regulatory action and increased funding from the federal government to improve dam safety.
During a press conference last week, Brown took issue with critics arguing that high speed rail funding should have instead gone to dam improvements in recent years. He stated that reducing the amount of vehicles on the state's roads is also a critical issue.
When asked why the state failed to take action 11 years ago when concerns were raised to water officials about the safety of Oroville Dam, Brown jokingly responded that Governor Schwarzenegger probably "had a lot on his plate" at the time. Brown said that repairs often come when they are a necessity. He added, "This is what happens, and we try to correct, and do it the best way we can. But, if we want to guard against any problem, 100-percent, you would have to quadruple our spending, and that wouldn't make any sense."
The "Newsmaker of the Day" is heard every weekday morning at 6:45, 7:45 and 8:45 on AM 1450 and FM 102.7 KVML.