Sierra Nevada Winter Weather And Flash Flood Watch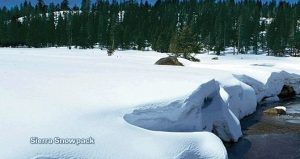 Sierra Nevada Snowpack

View Photos
A Winter Weather Advisory remains in effect for the Sierra Nevada through 4 PM this afternoon.
Total snow accumulations will range from three inches to one foot above the 6,000 foot elevation.
Wind gusts will range between twenty-five and fifty mph.
Additionally, a Winter Storm Watch has been issued for the Sierra Nevada from late tonight through tomorrow morning.
Afterwards, the National Weather Service has issued a Winter Storm Warning for the Sierra Nevada above 7,000 feet from 7 AM Friday to 4 AM Saturday.
Total snow accumulations tonight through Saturday morning, will range from five to twenty inches above the 7,000 foot elevation.
Winds of ten to twenty-five mph are expected with gusts up to forty-five mph.
Finally, a Flash Flood Watch has been issued for the Sierra Nevada from Friday morning through late Friday night.
One to two inches of rainfall is expected over the Sierra below the 7,000 foot elevation.
The combination of already wet soils and moderate to heavy rain could lead to excessive runoff. Flooding of small streams and low water crossings will be possible.
A Winter Weather Advisory means that periods of snow and gusty winds will cause travel difficulties. Be prepared for slippery roads and limited visibilities, and use caution while driving.
A Winter Storm Watch means there is a potential for significant snow, sleet, or ice accumulations that may impact travel.
A Winter Storm Warning for heavy snow means severe winter weather conditions are expected or occurring. Significant amounts of snow are forecast that will make travel dangerous. Only travel in an emergency. If you must travel, keep an extra flashlight, food, and water in your vehicle in case of an emergency.
A Flash Flood Watch means that conditions may develop that lead to flash flooding. Flash flooding is a very dangerous situation. You should monitor later forecasts and be prepared to take action should Flash Flood Warnings be issued.