Update: Local Flood Warning, Sierra Winter Winter Advisory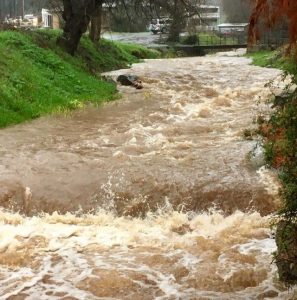 Woods Creek in Sonora (2-7-17)

View Photos
The National Weather Service has issued a Flood Warning for Tuolumne and Calaveras Counties until 9:15 AM Saturday.
Heavy rainfall over the past several days has resulted in high river levels and stream flows throughout Northern California.
Additional rainfall is expected today before tapering off Saturday with dry weather over the area on Sunday. Even though rainfall will taper off after today, runoff will continue and many rivers and streams will remain high with continued fast stream flows. Standing water in some locations may be very slow to recede due to the saturated soil.
Remember: Turn around, don`t drown when encountering flooded roads. Most flood deaths occur in vehicles.
Additionally, a Winter Weather Advisory remains in effect for the Sierra Nevada through 10 PM tonight.
Additional snow accumulations will range from four inches to one foot above the 6,000 foot elevation.
A Winter Weather Advisory means that periods of snow, will cause travel difficulties. Strong winds will also cause limited visibility at times. Be prepared for slippery roads and limited visibilities, and use caution while driving.
A Flood Warning means that flooding is imminent or is occurring. All interested parties should take necessary precautions immediately.