Caltrans Road Repair Roundup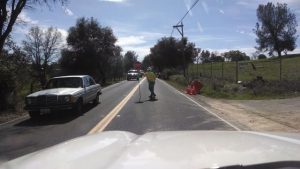 Road work

Expand
Sonora, CA — Caltrans road crews will work on several Mother Lode highways next week bringing traffic delays to motorists.
In Tuolumne County along Highway 120, several stretches of road construction will create traffic delays.  On the highway, between Old Priest Grade and Yosemite National Park, crews will continue trimming trees.  One-way traffic control will be in effect Monday through Friday from 6:00 a.m. until 6:00 p.m. creating ten-minute delays for travelers.
Utility work from Elder Road to Old Highway 120, Monday through Friday will bring five-minute delays for motorists.  One-lane traffic control will run from 7:30 a.m. to 4:30 p.m. each day.
Core drilling will be taking place on the highway from Sweet Water Way to the Saw Mill Mountain area.  Flaggers will stop motorist for up to ten-minutes Tuesday through Wednesday from 8 a.m. to 5 p.m.
The highway's closure remains in place in the overnight hours for work on the James E. Roberts Bridge at Lake Don Pedro, Sunday through Friday, holding up motorists for about twenty minutes from 5 p.m. until 7 a.m. One-way traffic control will be in place during the daytime and could have drivers stopped for ten-minutes.
There will be ten-minute traffic delays on Highway 108.  Crack sealing operations will produce one-way traffic controls from the Hess Avenue to Via Estate/Rancho Poquitos Monday through Friday from 8:30 a.m. to 3:30 p.m.
Calaveras Cone Zones
Next week drivers could face delays of up to ten-minute on various areas of Highway 4 in Calaveras County.  Crews will be conducting grinding, utility and tree work on the highway.  Caltrans has provided this schedule:
Tree work along SR- 4 from Batten Road in Vallecito to Meko Drive brings one-way traffic control Monday to Thursday causing about a ten-minute delay for motorists from 6:30 a.m. to 5:30 p.m.
One-way traffic control will also occur on eastbound and westbound SR-4 from the Stanislaus/Calaveras County line to SR-49 in Angels Camp for grinding operations beginning Monday through Thursday from 6:00 a.m. until 4:00 p.m.
The left and right shoulders on eastbound and westbound SR-4 from Lakemont Drive to Henry Street in Arnold will close for utility work beginning Monday through Friday from 7:00 a.m. until 5:00 p.m.
Roadwork on Highway 26 will bring short delays for travelers, as paving work will alternately close the highway from Nove Way to Highway 12 in Valley Springs beginning Monday through Friday from 7:00 a.m. until 5:00 p.m.  During the same dates and times, slope repair will take place on the highway from Gill Haven Drive to Alabama Hill, three miles west of Ridge Road.  Additionally, striping between Shelton Road and Highway 49 in Mokelumne Hill will run those same dates but from 8 a.m. to 4 p.m.
Finally, utility work will create five-minute traffic stops for travelers along two sections of Highway 49 between Gold Oak Road and Murray Creek in San Andreas.  Flaggers will be conducting one-way traffic control from 7 a.m. to 5 p.m., Monday and Tuesday.  From North Highway 4 to Copello Drive the same work will run Monday through Friday during the same times.