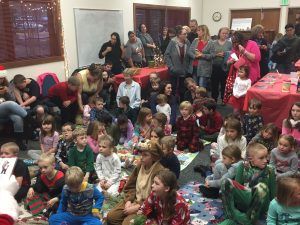 Tuolumne County Library pj party

View Photos
It is the Third Weekend Of December and many holiday events are planned throughout the region.
As detailed in the news story this morning, today is the 29th year of the free Mutz' Bean Feed.
At the Bret Harte High School Theater today thru Saturday there will be performances by Studio 4 Dance of the Nutcracker. This year's production will introduce new characters including the Snow King and a male Arabian dancer. Also this year, the Snow Princesses and Mouse Queen will be on pointe and there will be three male/female partner dances. Thursday was opening night the dates and times are listed here.
The East Sonora Sierra Repertory Theatre is presenting A Christmas Story. It is also the last weekend to see Stage 3's performance of Forbidden Broadway's Greatest Hits Vol 1. The entertaining tribute features the characters of Broadway's greatest musical legends.
The Polar Express continues at Railtown 1897, details are here. Twain Harte is lit up for the Christmas Holiday, hear carolers, visit the merchants in town and have cookies and cocoa, details are here.
There are two Breakfasts with Santa on Saturday, one at Applebee's in Sonora for the Summerville FFA and the other at the Sonora Moose Lodge.
As reported, Santa's Workshop is located on and has closed Linoberg Street and the schedule of Santa events in Sonora is here.
Next Week: Click on a date for more events coming up

S
M
T
W
T
F
S
18
19
20
21
22
23
24