Wind Advisory, Flood Watch, Sierra Winter Storm Watch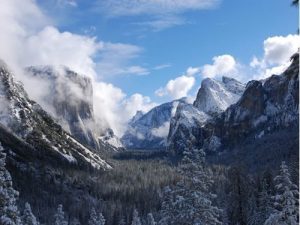 Snow in Yosemite Valley

View Photos
The National Weather Service has issued a Wind Advisory for the Mother Lode and the Northern San Joaquin Valley, for Thursday from 6 AM to 6 PM.
Additionally, a Flood Watch for the Mother Lode, the Sierra Nevada and the Northern San Joaquin Valley remains in effect from Thursday afternoon through late Thursday night.
A Winter Storm Watch is also in effect for the Sierra Nevada from Thursday afternoon through Friday afternoon.
Winter weather is forecast to return to the Sierra Nevada today into Wednesday. Only light amounts of snow accumulation is expected below 7000 feet. The snow levels will drop by late Thursday.
A second and stronger storm has the potential to bring more significant travel impacts to the Sierra Nevada this Thursday and Friday.
A foot to two feet of total snow accumulation is expected in the higher elevations, along with strong gusty southwest winds resulting in white-out conditions at times.
A total of three to six inches of rain is possible over the Sierra Nevada. This is in addition to the three to eight inches that fell over the same area, late last week. Some snow melt is likely due to rainfall and warmer temperatures. Three quarters to an inch-and-a-half of rain is likely in the Central Valley.
Winds of twenty to thirty mph are expected this Thursday with gusts ranging from forty to fifty mph.
Some of the impacts will include local power outages due to downed trees and/or power lines.
A Wind Advisory means that wind gusts of forty mph or higher are expected. Winds this strong can make driving difficult, especially for small cars and high profile vehicles. Use extra caution.
A Flood Watch means there is a potential for flooding based on current forecasts. You should monitor later forecasts and be alert for possible flood warnings. Those living in areas prone to flooding should be prepared to take action should flooding develop.
A Winter Storm Watch means there is a potential for significant snow accumulations that may impact travel.