Weekend Events In November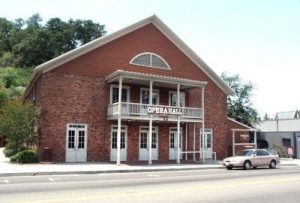 Sonora Opera Hall

View Photos
Events to honor Veterans are listed in the news story here, and there are more events planned this weekend.
Tuolumne County will host film makers, editors and actors at the 7th annual ITSA Film Festival. Over 66 films are being screened during the 3-day festival. beginning Friday night with the 1979 film "Generation on the Wind" Producer, Writer, Director and Editor David Vassar will be at the screening at the Sonora Opera Hall from 6 pm to 8 pm. The full list of movies and events is in our event calendar here. Saturday night the film festival also becomes a part of 2nd Saturday Art Night. Workshops and movie screenings are paid for by ITSA's sponsors and free to the public except for tonight's film which is $15 in advance and $20 at the door.
The Elks Hoop Shoot is Saturday from 9:00 am – 11:45 am at the Sonora High School Gym. It is a free event for kids from 8-13 to compete for trophies for boys and girls.
The Calaveras Humane Society Thrift Store Holiday Extravaganza and Home for the Holidays free cat adoptions will be held at the Calaveras Humane Society Thrift Store in Arnold this Saturday.
Church Basement Ladies 3: A Mighty Fortress is Our Basement continues at the
Fallon House Theatre in Columbia and at the East Sonora Theatre Sierra Repertory Theatre, this weekend and into December, will present A Christmas Story.
It is Living History Day at the Angels Camp Museum. The Mother Lode VW Club Annual Canned Food drive begins and Sonora United Methodist Church is hosting a Soup Buffet Luncheon, Gift and Bake Sale. Catch the last performances of Charlie Brown in Tuolumne, and/or see Summerville High School's production of Grease the Musical at 2pm and 7pm Saturday.
Also catch the 31st Annual Greeley Hill Christmas Craft Fair from 10:00 am – 2:00 pm in Mariposa.
Next Week: Click on a date for more events coming up

S
M
T
W
T
F
S
13
14
15
16
17
18
19