Winter Weather Advisory For The Sierra Nevada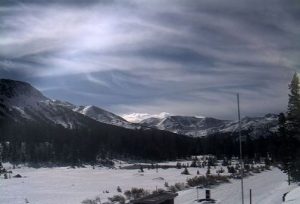 Tioga Pass

View Photos
The National Weather Service has issued a Winter Weather Advisory for the Sierra Nevada above 8,000 feet, from 11 PM Saturday through 11 pm Sunday.
A low pressure system will drop southward out of the Gulf of Alaska and move through Northern California late Saturday night and Sunday.
Total snow accumulations of half-a-foot to seventeen inches is likely above the 8000 foot elevation. The snow level could fall down to the 6,000 foot elevation.
Both snow and blowing snow with restricted visibility will make traveling difficult. Unprepared travelers may experience very long delays. Chain restrictions are probable.
Temperatures will be below freezing with wind chill temperatures in the teens. The winds are expected to gust up to fifty mph.
A Winter Weather Advisory means that visibilities will be limited due to a combination of falling and blowing snow. In addition, freezing temperatures will make for slippery roads. Use caution while traveling, especially in open area.