Mid-October Events Summary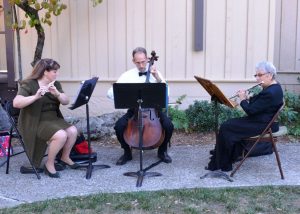 Sandra Betti, Ralph Retherford, and Janet Telford photo provided by John Carter

View Photos
The weather promises to change as detailed here and there are many events planned this weekend. Coming up tonight is another chance for voters to get to know the Tuolumne Utilities District Board of Directors (TUD) candidates as detailed in the news story here. The Farm Bureau will host the event listed in the event calendar here.
Saturday is the Mark Twain Wild West Fest in Utica Park in Angels Camp.  Christopher Buttner, with the Angels Camp Commemorative Committee is featured as today's KVML "Newsmaker of the Day" here. Admission and nearby parking are free, Calaveras Transit will shuttle from parking lots at the fairgrounds and Bret Harte High School.
As reported earlier the Sonora Sunrise Rotary will present the annual 'Barrels Brews and Bites' this Saturday at Railtown 1897 in Jamestown from 2 to 5 PM. The interview with John Maciel, Sonora Sunrise Rotary President-Elect, was Wednesday's KVML "Newsmaker of the Day" detailed here.
Saturday is also the 40th Annual Bach Festival's Chamber Orchestra Concert at the Country Cowboy Church. The Mother Lode Friends of Music Baroque Chamber Orchestra and soloist Corina Stoian, Sandra Betti, and Ron Brickmanwill perform. Next weekend is the Locals Concert. 
There is a two day AKC Dog Show at the Mother Lode Fair Grounds, details are here. Saturday is also Columbia College Campus Pride Day where Students, faculty, staff and community members participate in an all day campus improvement projects. Saturday is the 68th Tuolumne County Farm Bureau Annual Dinner at the Tuolumne County Posse Grounds. Their Board of Directors slate will be voted on, details on the speaker are here.
On Saturday there is a Cancer Support Group Luncheon and Fashion Show in San Andreas. The speaker will be Mark Nouillan, who is a two time cancer survivor. Mark is a native of Glasgow, Scotland and the author of "Cancer Bravehearts." More details are in the event listing.
On Sunday the Joie de Vie Gala at Ironstone Vineyards, is a benefit for Sonora Regional Medical Center's Cancer Patient Support fund and new Diana J. White Cancer Institute. The keynote speaker is Dave Dravecky, former Giants pitcher and cancer survivor, the event is black tie optional.
Sunday is also Share the Lane for Amy Wayne, a 5k and one mile color fun run, this year raising money for Big Dreams Park. The race is held in Tuolumne, participants are encouraged to wear white shirts, tutus, crazy socks, and "iconic eyelashes." Same day registration starts at 8am, race starts at 9am details are here.
Learn more about a LaGrange event on Sunday called the Memorial/Charity Ranch Sorting Event for Horse Veterans Equine Therapy Services (VETS) here. The ranch sorting charity event is in honor of United States Marine Corp Sergeant Kirk Gadsby.
MYACT youth will be performing Red Riding Hood at six showings this weekend and next weekend, details are here. It is the last weekend to see Cyrano at SRT in East Sonora, and Church Basement Ladies 3: A Mighty Fortress is Our Basement opens on Friday at SRT's Fallon House in Columbia.
Next Week: Click on a date for more events coming up

S
M
T
W
T
F
S
16
17
18
19
20
21
22